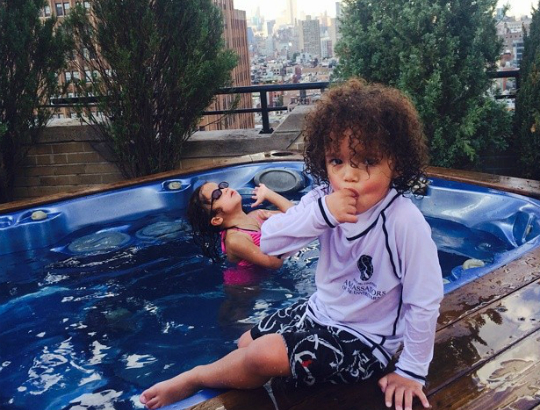 Mother of two, Mariah Carey, recently took part in a private concert in France attended by business execs and big names like Courtney Love and Kanye West. In a post-performance sit down with USA Today, the songstress discussed her career, her husband, and of course, her children.
Mariah sang a variety of her many hits, old and new, but was certainly excited to promote her new album. She poke of it as a "body of work", insisting it's meant to be listened to from start to finish. "It's really an emotional journey," she explained. Although she cited "Cry" as the song on the album that means the most to her, the track "Supernatural" features the voices of her twins Moroccan and Monroe. Moroccan was named for where their father proposed, and Monroe after the legendary Hollywood star, Marilyn Monroe.
Born to her and husband Nick Cannon in 2011, the fraternal twins were a very difficult pregnancy for Mariah. Although the issues were sometimes rather serious, the diva made light of it with USA Today stating, "All I did when I was pregnant was take a bath and tweet". Her husband's obsession with social media, however, extends beyond her own. She joked that Nick's Twitter use is "excessive".
Mariah also admitted to feeling guilty when she has to be away from her babies, who were in France with her at the time. On how they are shaping up thus far, the proud mommy gloated that her son is a natural on skis and that her daughter has a huge personality. "[She] has far surpassed me as a diva."