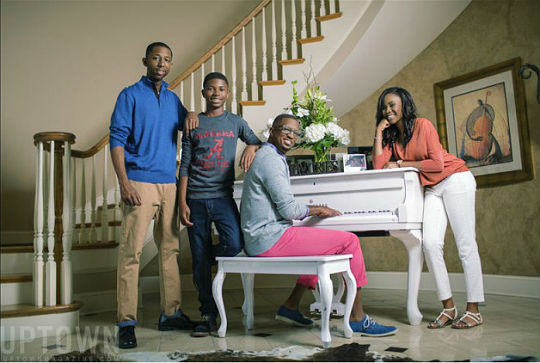 T.V. host and stand-up comedian, Ricky Smiley, is rich and famous – but what he is most proud of is being a great dad. He recently told Uptown Magazine, "I enjoy being the best father I can be". His own children, Brandon (age 24), Malik (age 13), step-daughter D'Essence (16) are the centrepieces of his home but his paternal instincts hardly start and end with them. 
"I have been helping to feed kids since I was 15 years old," he explains. "[There] were kids in the community, their parents were on drugs. I started out boiling hot dogs and making sandwiches for kids that didn't have anything to eat." Since then, he has even pitched in taking care of kids of friends and family members.
His own personal experience of being without a father was a major prompt. "My dad was murdered and taken away from me when I was 7 so I know what it's like growing up without a dad, even though I had an awesome granddad and uncles. But to be able to fill that void for somebody else is just incredible. I would actually pay money to do it."
In the end, his fame and fortune (and huge nine-bedroom house) will always come second to family. Living lavishly is not as important as living happily together. "It's a real simple life. We ain't balling out and popping Champagne!" Rather, the T.V. personality said he'd prefer his legacy to be one of generosity and fatherhood.
Photo: Uptown magazine