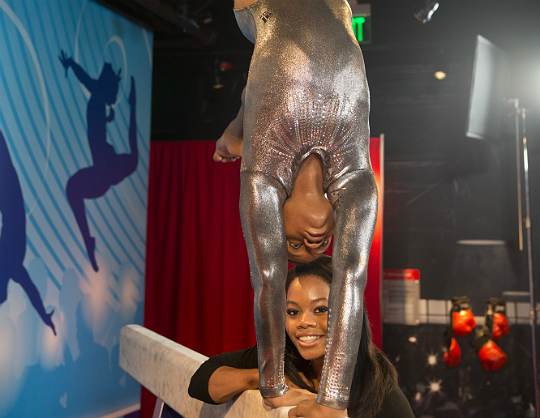 Olympic gold medalist Gabrielle Douglas is getting recognized for her gravity defying feats once again.
This time she gets to see herself in action.
The teen gymnast recently unveiled her wax figure likeness at the Madame Tussauds San Francisco.
"We are thrilled to have Gabby participate in the unveiling of her figure," Lauren Fahrer, Marketing Manager for Madame Tussauds San Francisco stated. "Gabby is an extraordinary athlete and amazing role model for young women around the world. This figure is one of the most unique in the entire attraction, and we look forward to sharing it with guests at our grand opening at the end of June."
To make sure the figure was as exact as possible, the Madame Tussaudes studio took hundreds of very precise measurements and many photographs of Gabby. It took 20 people and four months to complete the piece.
"I am stunned that there would be a Madame Tussauds wax figure even made of me at all, but to see the likeness and the incredible work they have done with it is even more overwhelming to experience today," Gabby said. "I love that they created the figure with me actually doing a gymnastics routine on the balance beam."
Check out pics of Gabby's wax figure below.
Photo: Facebook/Businesswire/Postnews