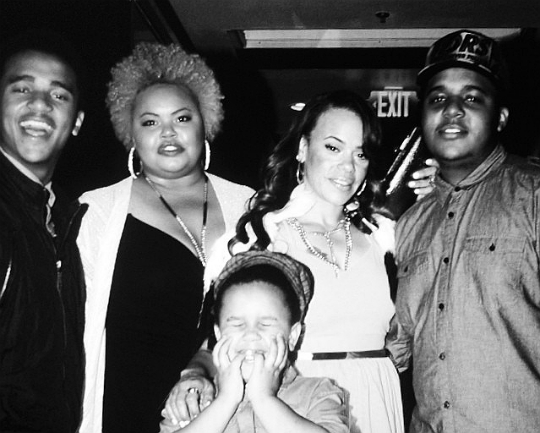 Faith Evans had a birthday blast with family and friends by her side. The singer rang in her 41st birthday on Tuesday, June 10, 2014, with a whole lot of loved ones near to help her celebrate.
Evans' kids joined her for a birthday dinner at Philippe Chow in Beverly Hills. Ryder,7, Joshua,16, and Christopher Jr., surrounded Faith, while Chyna stood by her mother's side. The youngest of the pact, Ryder, closed his eyes and made a funny face during photo sessions. Kids do the darndest things!
June 10, 2014, was also Joshua's birthday. Faith posted a picture of her and the teen together, while telling Instagram fans that they had "mother-son love."
Faith is currently one of the proudest moms in the music industry, as her eldest son graduated from high school a few weeks ago. Christopher Wallace Jr., walked the stage with his diploma in hand as mom gave cheers from the audience last month. The singer couldn't help but share her excitement with social media fans tweeting, "Proud mom. Happy son," along with a few pictures from the ceremony.
Christopher Wallace Jr., is the son of the late Biggie Smalls. The famed rapper was murdered on March 9, 1997, in Los Angeles, California. Faith Evans has four kids in all.
Photos: DutchLabUsa.Net/Twitter