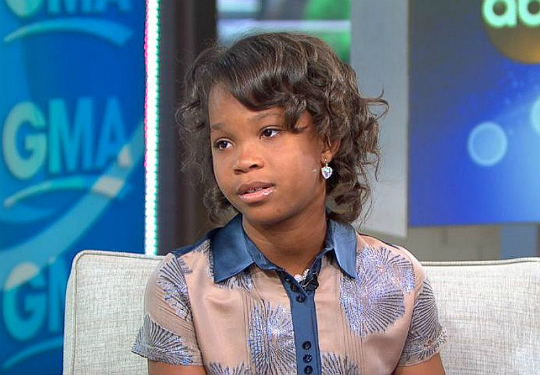 Ten-year-old Quvenzhane Wallis recently sat down with the team of "Good Morning America" to talk about her upcoming movie Annie.
In the movie, Quvenzhane plays the modern day Annie. She is taken in by Benjamin Stacks (played by Jamie Foxx) and the two start an adventure full of fun and laughs.
During the interview the Academy Award nominee talked about working with entertainment powerhouses Jamie Foxx and Cameron Diaz.
"He was like the nicest man I've ever met. It was fun to see all of the things with him. And make jokes around. He's a funny guy. Talented guy, she said about Foxx.
"She was like a mom to me. She would make sure I didn't jump the wrong way or that she gave me a tip on live or something like that, she added about Diaz.
Although Quvenzhane is quickly becoming a well-known starlet, she still has to keep up with school. "My report card was really good, she stated. "My favorite subject is science."
Annie hits theaters on December 19th.
See Quvenzhane's interview on "Good Morning America" below.
Photo: ABC