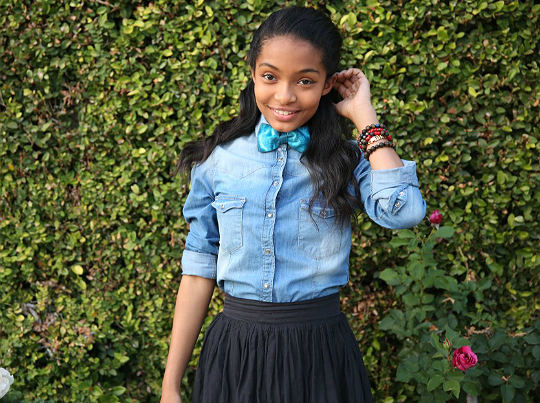 14-year-old Yara Shahidi (Scandal) is passionate about philanthropy.
The actress recently discussed with Teen Vogue the many ways she gives back and why she feels so strongly about it.
"It comes down to this idea that the entire world is made up of a community of human beings," Yara explains. "And if you're capable of providing care for people that really need it—things that would change their well-being—then it's your duty to that."
Obviously a philosophy to live by, Yara has put her words into action in many ways. Lately she has been working with Integrative Clinics International (ICI). The organization works to deliver healthcare to communities with little to no regular access. Yara and her mother spent a week with ICI in Jamaica. Yara spoke highly of the experience. "We had been trying to make sure we could find the time, and finally we were able to go for a full week! We went to different areas of Jamaica, so we were in places like Nine Mile and Negril to give healthcare to people who didn't have access to it. I was doing triage, helping fill prescriptions, and giving some of the needed care."
The young star even described the trip as "Amazing". Next she hopes to accompany ICI to Ghana. Led by Dr. Bruno Lewin, the organization has been in action since 2002 and sees 60-100 patients a day. As the clinic continues to expand it comes closer and closer to achieving its goal to improving healthcare worldwide, by establishing long-term, affordable clinics in under-served communities.
But Yara understands that giving back to your own community can be just as fulfilling. "I'm always looking for new projects," she says. "I start out asking, 'Is there anything I can do by myself?' I think there's always something in our own community, our own city, our own state that we can do."
And, of course, there always is. "A few weeks ago my friend came over, and instead of surfing the web, we decided to make 'We Care' bags with basic essentials like toothbrushes and things like that to hand out to the homeless in our community," she told Teen Vogue.
Since she began acting in 2007, Yara has been a busy girl. Luckily, she has the full support of her teachers, as she balances school with work and her other projects. Currently Yara is in pre-production for an upcoming show Black-ish.
Making time for everything is something of an art. Yara explains, "When it comes to acting, I've taken projects of mine to set! In my trailer I've put together care bags and all sorts of stuff." The actress gives credit to her school and teachers for helping her find charities to get involved with, but her advice to other teens looking to get involved is to simply search online for ways to give back.
Photo: Yara Shahidi.com