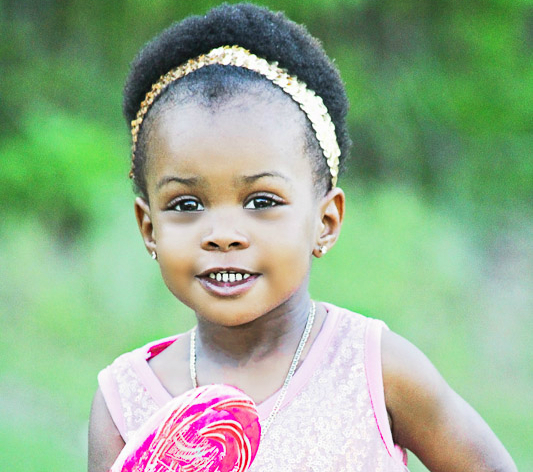 Eden Piper is a  mini fashionista with a whole lot of style!
Eden is 2 years old, from the state of Georgia and is the youngest of six children in her family.
According to her parents, Eden is very friendly and has a very outgoing personality. She enjoys being dressed up and taking pictures hence, all of her fashionable pictures on Instagram.  She is an aspiring model who has already been noticed and spotted in the fashion world. Eden's latest feature is with Essence Magazine as one of their Most Stylish Kids on Instagram! This fashionista gets her fashion inspirations from celebrity stylist like Shun Melson, Ms. Bling Miami, and reality star Toya Wright. One of her latest appearances was at the Tiny from "The Family Hustle" Mother-Daughter Brunch Pageant hosted by Shekinah Jo.  Indeed Eden is in the spotlight with a lot of glitz and glamour, but her parents are making sure to teach her the importance of giving back.
Eden's parents started "The Eden Give Back" on behalf of their daughter for the holiday season. Through this program, they donated a good portion of their daughter's Christmas gifts to the mothers and children at a local homeless shelter in the state of Georgia. While visiting the shelter, Eden got the opportunity to interact with all of the children there. To continue the joy of giving back, Eden now has her very own non-profit organization, Eden Posh Couture Foundation. The mission of her foundation is to "educate and nurture homeless children while helping them to achieve their goals."  Not only does this young fashion icon have her own organization, but she is also an ambassador for Black Celebrity Giving, an organization that highlights the different activities of African American giving. Eden's latest giving back project includes her giving 10% of her proceeds from her lip gloss line, Posh Lip Pop by Eden, to The Eden Posh Couture Foundation.
Stay up to date with this rising fashion icon by visiting her at Eden Posh Couture! She is doing some great things in her community and looking fashionably great doing it.