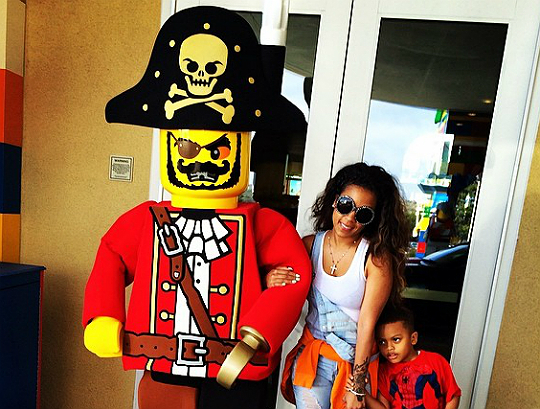 In a touching display of respect and love, former NBA star Daniel Gibson shared a beautiful sentiment with the world when he posted a special Mother's Day message to his estranged wife, Keyshia Cole.
To the mother of his 4 year old son, he wrote, "People will say what they want about Us but nothing can take away from how thankful I am for you to be DJ's mother."
Despite a beautiful wedding in Hawaii just a few years back which aired on their BET reality show Family First, the couple announced their split in March 2014. In a recent interview Keyshia said that regardless of their personal issues, they are excellent co-parents and that she would never take Daniel out of DJ's life.
Daniel's message to the singer went on to say, "Nobody knows the sacrifices you made in your career to make sure he was raised right & cared for, or the time you put into your family & how great of a mother you truly are. That's the [stuff] that goes unnoticed and never spoken of. I know there is nothing in this world you wouldn't do for him & there's nothing more I could ever ask of u. I thank you for being a special woman. I love that boy with every ounce of me that lives. It's crazy how such a small person can make such a big impact. I'm eternally grateful & forever indebted to u.. I only hope this day as special for you as you deserve for bringing him into my life. Happy Mothers Day.."
Keyshia posted a short but sweet reply: "Thank u. He's a life changer! No matter what we go thru, the love for munch will last forever in both of our hearts".
The two have not officially filed for divorce, but whatever happens it seems safe to say DJ will always have two loving parents by his side.
http://www.necolebitchie.com/2014/05/daniel-gibson-posts-a-sweet-message-to-keyshia-cole-on-mothers-day/#more-272406