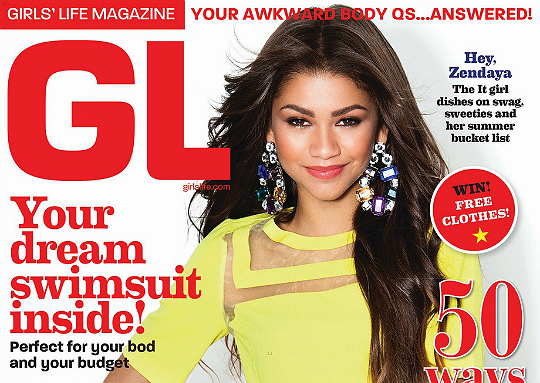 Seventeen-year-old starlet Zendaya is gracing the cover of the June/July edition of Girl's Life Magazine.
Check out what she had to say:
On her father
He's taught me to fight for what I believe in. It's easy to give into things based on peer pressure or because we don't have the confidence to stick up for ourselves, but it's important you don't let anybody tell you what you're worth.
On her new movie "Zapped"
This movie is more about real issues, which is cool. [Zoey's] mom remarries and she's gotta move in with boys she doesn't get along with and adjust to a new environment. Everyone in the world has to go through changes and deal with weird situations. We had to shoot some scenes outside of a school, and there were bees everywhere. They'd be swarming all over the craft service table. [People] freaked out. It was funny. I mean, who's not scared of bees? But I've been around them so much now, I'm cool with them.
On new Disney show "K.C. Undercover"
It's like The Cosby Show meets That's So Raven meets Kim Possible. Her parents are spies and need her help, so she's recruited. She has to balance being a regular girl and disappointing her friends 'cause she can't tell them.
Read More at Girl's Life Magazine.