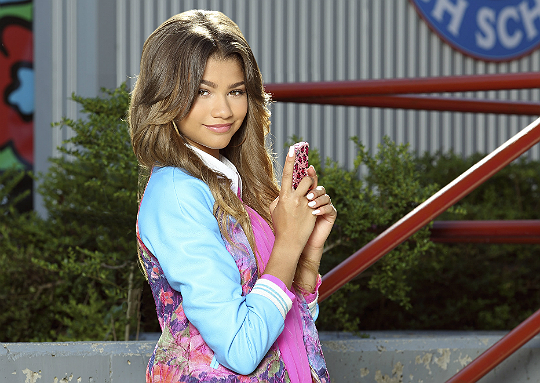 The highly anticipated upcoming Disney Channel Original Movie Zapped, starring the talented Zendaya, is almost here!
The new comedy centers around Zoey, (played by Zendaya) whose life is altered when her mother remarries. She is now surrounded by a family full of boys- three stepbrothers and even a boy dog. Zoey's life changes even more when she downloads a smartphone app that controls all boys. There is one boy that stands out from the rest of the unruly bunch named Jackson (played by Spencer Boldman).
The movie was directed by Peter DeLuise ("16 Wishes," "Kyle XY") and executive-produced by Jane Goldenring ("Radio Rebel," "My First Mister"), Carol Baum ("Father of the Bride," "The Good Girl"), Michael Prupas ("The Kennedys," "Cyberbully") and Harvey Khan ("Spooksville"). The producer is Lisa Towers ("The Christmas Choir"). Based on the popular book Boys Are Dogs by Leslie Margolis, the screenplay was written by Rachelle Skoretz with revisions by Matt Eddy and Billy Eddy. Aakomon "AJ" Jones ("Pitch Perfect") is the choreographer.
Zapped also stars Chanelle Peloso ("Radio Rebel") as Zoey's best friend Rachel Todds; Emilia McCarthy ("Hemlock Grove") as Taylor Dean, captain of the rival dance squad; and Adam DiMarco ("Radio Rebel") as Adam Thompson, the oldest of Zoey's new step-brothers.
Beginning Thursday, May 29, kids and families can visit DisneyChannel.com/zapped to play the new Zapped game and even control the smartphone that controls the boys.
Zapped is set to debut on Friday, JUNE 27 (8:00 p.m., ET/PT) on Disney Channel, just before the premiere of  "Girl Meets World" (9:45 p.m., ET/PT).
Stay tuned for more "Zapped" news- coming soon!
Photos: ©Photographer/Disney Channel