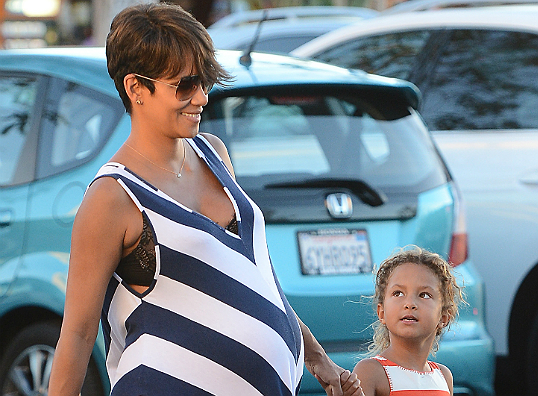 Halle Berry is in celebration mode today, as Governor Jerry Brown signed the anti-paparazzi bill into law on Tuesday (September 24). The paps in Hollywood will now have to seek celeb parents' permission before photographing their children on a daily basis.
Halle was one of the first celebs to express her delight telling media via press release,"I started this fight with a great deal of hope and a bit of uncertainty so I cannot express my immense gratitude that Gov. Brown has recognized, and acted to remedy, the plight of children who are tormented because of the identity or prominence of their parents. On behalf of my children, it is my hope that this is the beginning of the end for those overly aggressive paparazzi whose outrageous conduct has caused so much trauma and emotional distress."
PHOTOS: Halle Berry Bumps Around The Grove With Her Family
The actress spoke earlier this year, along with actress Jennifer Garner, about the heartache that Nahla and other celebrity kids face everyday because of photographers who constantly harass them.  "We're moms here who are just trying to protect our children," Berry told lawmakers. "These are little innocent children who didn't ask to be celebrities. They didn't ask to be thrown into this game and they don't have the wherewithal to process what's happening. We don't have a law in place to protect them from this."
Nahla is Halle's daughter with Gabriel Aubry. The actress is expecting her second child with husband Olivier Martinez this fall.