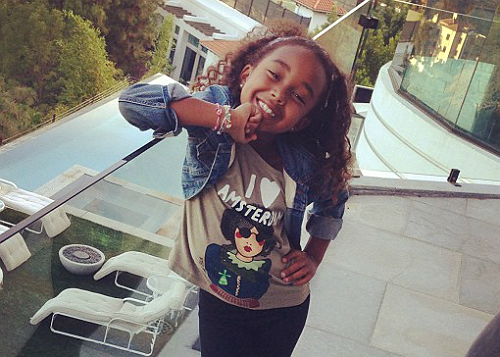 Chance Combs is officially 7-years-old. The youngster celebrated her birthday on Sunday (July 21st) with family, friends, and lots of gifts by her side. Sean "Diddy" Combs was the proud father who sang 'You Are My Sunshine' to his daughter before giving her a bundle of balloons and saying, "Happy Birthday" with arms stretched wide. With bits of her birthday being recorded, Chance was sure to look at the camera and tell social media fans, "I'm 7-years-old." Cute.
Diddy has been quite busy as of late, creating a network called 'Revolt' that is set to make its debut on cable later this year. The Hip Hop mogul expressed nothing but excitement when talking about his new television channel with USA Today saying,  "[Revolt] isn't just hip hop, it isn't just an urban-based channel, it isn't just rock and roll. We're looking for greatness, we're looking for great stars, we're looking for people who have something to say. Our bar is extremely high; it's highly curated. There are other places artists will be able to get exposure, but when you make it to Revolt you will feel you've been authorized."
Regardless of the sleepless nights he may have endured in preparation for his network to hit television screens in October, Diddy couldn't miss out on a chance to celebrate his daughter's birthday. Happy Birthday Chance!
Diddy has six kids in all.
Photos: Instagram