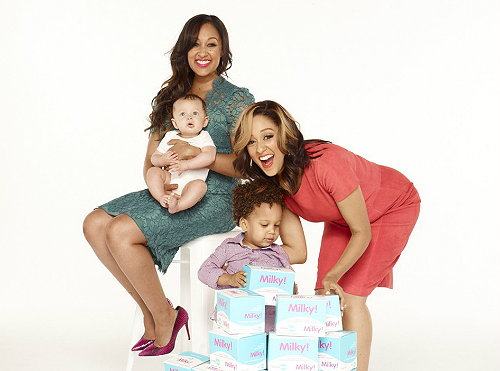 Tia and Tamera debuted their 'Milky!' brand by way of photo shoot during the premiere of their reality show, 'Tia & Tamera,' on Sunday (July 14). The twins looked fabulous as they showcased their brand and kids while on the set of the shoot. Tamera rocked a cool  Dolce & Gabbana lace dress that featured her curves, while Tia went with a bright-colored pink dress with accenting shoes.
Cree and Aden looked their best as they helped their moms promote their brand. Cree was camera-ready with a big smile and lots of action. Aden, on the other hand, was more reserved, holding on to mom as the cameras snapped away.
Tamera explained her photo shoot breakdown to her loyal fans, telling them that weight gain challenged her to remain confident during the shoot. "When you gain weight—and I gained almost 50 pounds with my pregnancy—you really don't realize how much weight that is until you try to lose it," said the reality star. "I know that, when doing photo shoots, you have to be confident from the inside out because the camera can read everything, and this was a huge photo shoot for my sister and me. It was our first photo shoot for our brand, and I did not want to let my sister down. That's what I was feeling." Although nerves threatened to get the best of her, Tamera was able to successfully pull off a spectacular shoot and spread the word about 'Milky!' to consumers.
Tamera has one child, Aden, with husband Adam Housley. Cree is Tia's son with husband Cory Hardrict.
Photos: Style Network