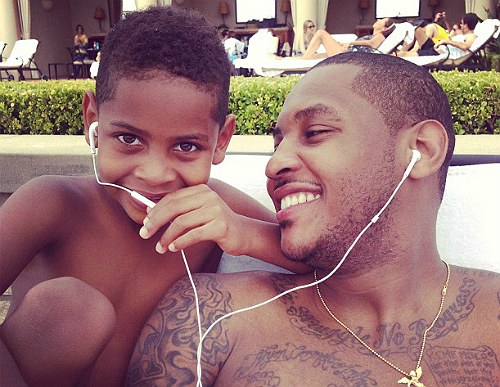 Carmelo Anthony and Kiyan take time out to listen to the rhymes of Jay-Z. The father and son were recently photographed by mom and wife La La Anthony while listening to the rapper's new album, Magna Carta Holy Grail, on what appeared to be a beachfront. "The boys listening to Jay's new album(clean version..lol)," tweeted La La who is set to premiere the fourth season of her reality show, 'La La's Full Court Life,' later this month.
Anthony will focus on her family and friends on the show, despite having a full list of things to accomplish on her own. Movie roles and clothing lines are just a few things La La has to do all while being the best mom she can be to Kiyan. At one point the television personality tells a family friend that she struggles as a parent saying, "I just always grapple with him (Kiyan) learning values and being humble because of who his parents are."
'La La's Full Court Life' premieres on July 14, 2013 at 10pm on VH1. Kiyan is La La and Carmelo's first child together.
Photos: Instagram