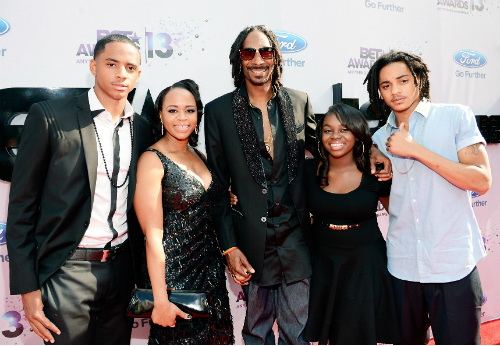 Snoop Lion, formerly known as Snoop Dogg, arrived at the 2013 BET Awards in Los Angeles with family by his side. The rapper looked fresh as he sported formal wear while sticking close by his wife and kids. Cori and her brothers had nothing but smiles for their dad who stole the show with his amazing collaboration with Charlie Wilson.
Snoop, along with Pharrell and Justin Timberlake, helped Charlie deliver a few of the Gap Band's greatest hits to a crowd that was thirsty for more. The rapper spit lyrics while Justin sang along with Charlie who is steadily moving towards legendary status in the music industry. Snoop's family sat in the audience as they watched him give a performance to remember at this year's awards ceremony.
Snoop Lion has three kids-Cori, Corde, and Cordell-with wife Shante Broadus. The couple wed in 1997.