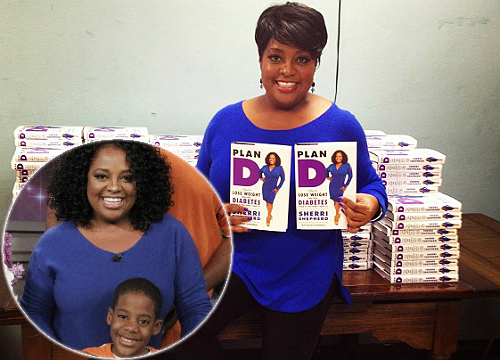 Sherri Shepherd is passionate about being healthy and will stop at nothing to ensure that she is alive and well for her son. The television personality recently spoke with US News about her experience with Diabetes and the vision that changed her outlook on life.
"I ignored it for years because mostly everyone in my family had diabetes," said Shepherd. "My mom passed away from complications at 41. But there wasn't really an urgency to change anything because we called it 'the sugar' – we didn't call it diabetes. And when you have a term called 'the sugar,' it sounds kind of cute."
Even after being diagnosed with Diabetes and prescribed three different medications, Sherri continued to eat. "First I went to IHOP, the pancake house, and had a big stack of pancakes, sausage and bacon. Then I made chicken pesto pasta – a bowl big enough to feed four people."
The eye-opener came to Sherri in the form of a vision as she sat with her head pressed against her chest after consuming too much food at once. "I had this vision of my son crying, clutching his teddy bear, trying to figure out where heaven was because that's where everyone said mommy was. That image made me put my head up and say, 'I don't want to do what my mother did to me,' which was leave me at an early age to fend for myself. And I realized, I gotta change my life. Because I don't want my son to be walking down the aisle with his wife one day, with a rose on the chair in honor of his mother."
Sherri changed her diet and wrote a book, Plan D: How to Lose Weight and Beat Diabetes, that encourages diabetics to take charge and strive towards wellness. Although meant to inspire individuals battling with diabetes, Shepherd's book can also help readers who do not have the disorder.
Jeffrey,8, is Sherri and ex-husband Jeff Tarpley's only child together.
Photos: Instagram