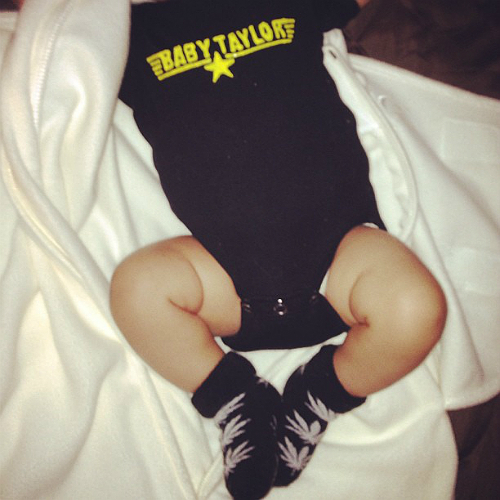 Wiz Khalifa is on the defensive when it comes to baby Sebastian. The rapper recently told Power 105.1 that he rarely takes his son out in public and doesn't feel comfortable with sharing pictures in abundance via social media.
"I haven't even taken my son out the crib yet," said Wiz. "I'm like, defensive. I don't want anybody to see him yet. I'm scared because he's so young and so little. He's my little Bash."
Although they enjoy parenthood to the utmost, Wiz and Amber are not ready to have another little one just yet. As the rap star explained, "…We want more kids. I'ma give her some time to get her body, have her fun. Pregnancy is tough though…..We breastfed for a little bit. But it doesn't work all the time."
As for why the couple continue to dress baby Bash in those controversial 'leaf' socks, Amber tweeted yesterday, "A marijuana leaf represents Peace,Love,Happiness & also helps cancer patients (Like my dad) U look at the negative we see the positive."
Sebastian was born on February 21, 2013. He is Amber and Wiz's first child together.
Photos: Instagram