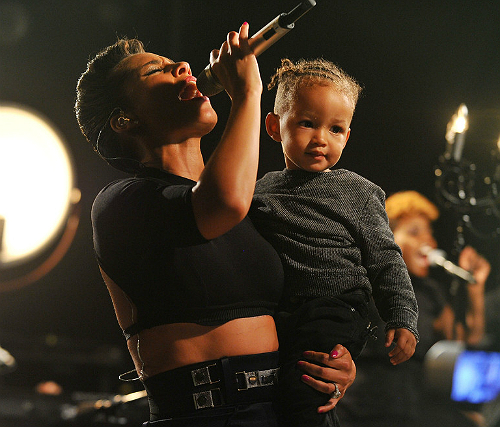 Days after Alicia Keys said that her 2-year-old son was featured on her new album, 'Girl On Fire,' Egypt joined his mom onstage at an iHeartRadio concert for Hurricane Sandy's first responders. The little tot looked on with delight as his mom sang several songs off past records and new songs from 'Girl On Fire.'
Egypt didn't disappoint the crowd when it was his turn to shine telling his mom, "I love you" over the mic for thousands to hear. The little guy even finished the lyrics to Alicia's new song 'Brand New Me' as mom led the way.
Keys recently told fans to be on the lookout for Egypt on her new album as he and her husband Swizz Beatz are featured on several tracks. "I asked [Egypt] to say, 'Mommy,' so then he says, 'Mommy,' and then I asked him to say, 'I love you,' so he says, 'I love you.' It was perfect, he did amazing," said Keys.
Egypt is Swizz and Alicia's first child together. 'Girl On Fire' is available at all online and traditional music stores.
Egypt makes his ADORABLE entrance at the 2:42 mark and speaks at the 5:48 mark: