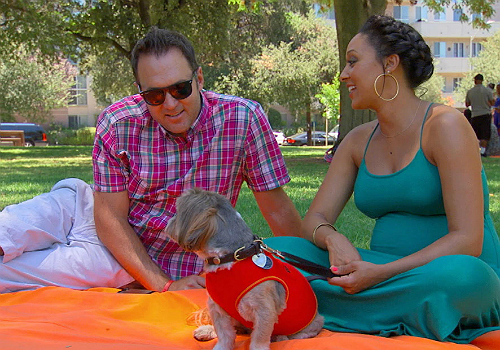 Tamera Mowry-Housley is set to deliver any day now. The 'Christmas Angel' actress recently blogged, "I seriously feel like I have been pregnant forever. Almost 10 months to be exact! Thirty-nine weeks in and no baby yet. 'This has now become a waiting game,' my OB told me. If I have yet to learn patience, my son is in the process of teaching me now. I have learned that I am not in control and that he will decide when he comes. However, I have not been as receptive as I want to be to his timing. If I am completely honest … at this stage, I want this baby OUT."
The actress and her husband, Adam Housley, recently revealed that they are expecting their little boy to arrive on October 30, 2012. With the due date looming around the corner, the Housley's along with twin sister  Tia Mowry-Hardrict are getting anxious. "I will be in the room with her coaching her," said Mowry-Hardrict at Tori Spelling's children's clothing debut.
Tia also commented on Tamera's decision to attempt a natural birth with no drugs involved saying, "She is my sister and we can't take pain. Pain and us, we just don't mix! She is trying to be brave, which is good . . . but I don't think she is going to make it."
Tamera and Adam's little bundle of joy will be their first child together. The couple wed last year at the Vintage Estate in Napa Valley.
Photo: Style.com