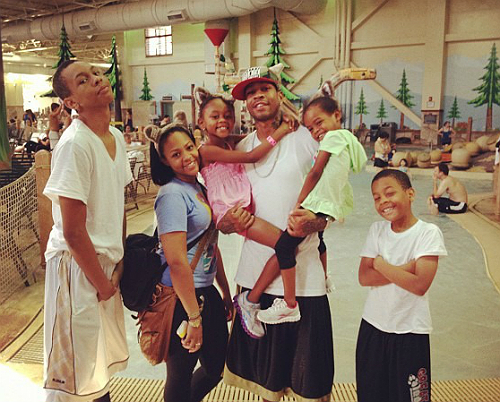 Allen Iverson takes a water break with his kids at the Great Wolf Lodge. "My babies and I taking it easy at Great Wolf Lodge," the basketball star tweeted. Iverson had all five of his and estranged wife Tawanna's children on board at the indoor water park.
In 2010, Allen revealed to his fans that he would be taking a break from basketball due to his at the time 4-year-old daughter's illness. The former '76ers' player tweeted, "I need to be there to hold my little girl's hand and encourage her to get better. I wanted her to wake up every morning and see her Daddy's face, at least until she got better. Through God's Strength, She Will Keep Getting Better."
Now that his daughter is in good health, Iverson is trying to return to the world of b-ball playing. The former NBA star recently told the press, "I want to play basketball so bad. The way it is right now, I've accepted the fact that that might not happen, but I still want to play basketball, and if I can get an opportunity where it's going to make me happy at the end of my career, I'll take that opportunity. But I just love to play and I want to have another opportunity to play on the professional level."
Iverson began his professional basketball career in 1996, playing for the Philadelphia 76ers.