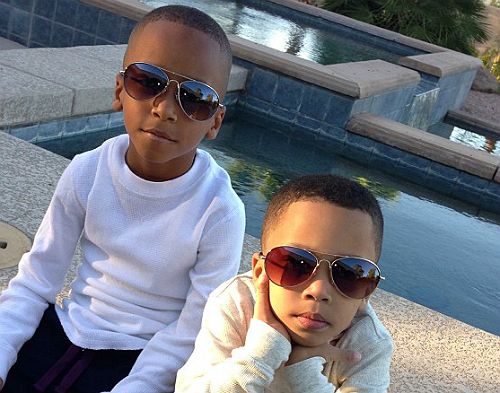 Rodney and Romelo are the epitome of cool. The two little guys pose for mom Monica Brown as she snaps the cutest candid of them wearing sunglasses and white shirts. "These two have changed my life in the most amazing ways…Romelo & Rocko I Love u from the depths of my Soul," tweets Monica. Rocko and Romelo are just too cool for school!
Speaking of school, these boys make their mommy proud with straight A's and nothing but "Excellent" marks. While Rodney is scoring in the ninetieth percentile in school, Romelo is receiving top notches for excellence in academics and conduct. Monica is "super proud of my babies Rocko All A's, Romelo All E's (excellent) .Proud of ALL the student at school that showed me their awesome report cards."
Rodney and Romelo are Monica and ex-boyfriend Rodney Hill Sr.'s only children together.