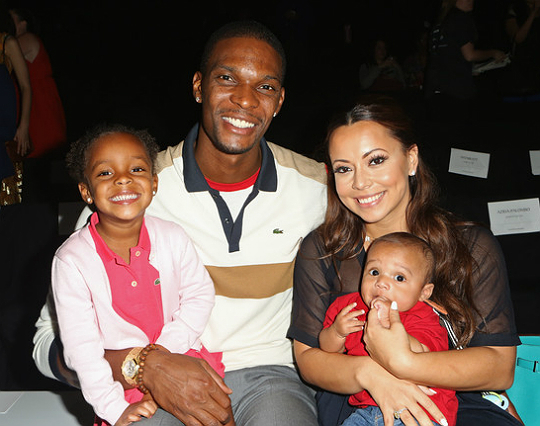 NBA player Chris Bosh, his wife Adrienne, and children Trinity and Jackson were in attendance for the Spring 2013 fashion show in New York City on Saturday, September 8, 2012. Jackson, the youngest of the bunch, was fascinated by all of the events surrounding him. He, along with big sister and dad, were all sporting Lacoste shirts.
Chris recently talked about teammate Dwyane Wade's new book 'A Father First' during an ice cream event. "I cracked it open right away. It's very good. It's really a lot about his life, about him as a kid, and then what he's gone through for his own kids," said Bosh.
The Miami 'Heat' player also talked about his relationship with his 3-year-old daughter Trinity's mother saying, "You know, it is what it is. Everyone struggles, and eventually you figure it out. It's all about Trinity."
Bosh told the media that he and his ex-girlfriend Allison Mathis are working through their child custody issues, and Trinity spends a lot of time him.
Check out more pictures of the family below!