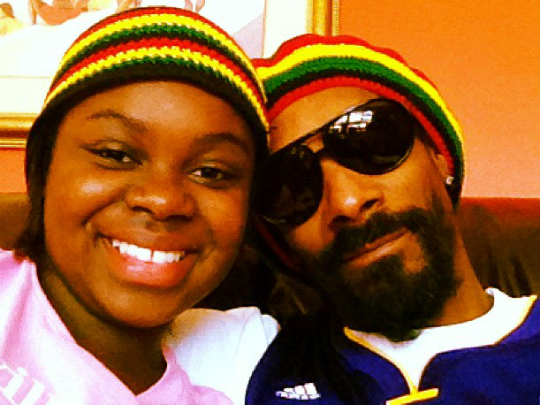 With Father's Day approaching, Hip-Hop Dx tracked down rappers like Snoop Dogg, Bow Wow, E-40, and other emcees to inquire about the music that their children listen to. Is Cori Broadus(pictured above), Snoop's only daughter, a fan of musician Bob Marley? Find out the answer by clicking over!
Snoop Dogg: My kids always heard my music from day one so they've been exposed to everything. They've been exposed to the truth because the truth don't have no prejudice. I've always expressed nothing but reality to my kids so that they understand when they leave outside of my house that it's a real world out there and it's not gon' be catered to you with maids, butlers and tutors. You're gonna have to go out there and survive and make it happen on your own. So, the reality of it is that they're gonna have to live their lives. My life is my life but they have to create their own lives.
E-40: The kind of music I play for my kids is the same music my daddy played for me. That's old school R&B Soul records such as Earth Wind & Fire, Al Green, Curtis Mayfield, Commodores, Rodger Troutman & Zapp, Cameo, Johnny Taylor, The O'Jays, Johnny Guitar Watson, Lakeside, old school mob music Rap and the list goes on! My kids will play the same for their kids. History repeats itself.
Bow Wow: Right now, she's on everything Nickelodeon. Anything that comes on Nick. That's it. Anything that comes on Nick, she knows. It's really all up to her, you know? But of course, I'm Hip Hop so I already know what she's gonna listen to in the future.
Wordsworth: I play Nas, Jay-Z, Kanye [West] but then I let them choose after I get my two songs in. Then it's Adele, a lot of Nickelodeon, Justin Bieber, my stuff, LMFAO, and Nicki Minaj. That's what they hear on the radio, on TV, when we're driving. My parents let me listen to whatever I wanted, and I don't want to be all political about the music they enjoy. They're just kids and want to sing what's popular in school with their friends. I love hearing them sing the songs while we on the go. As they get older, I'll play a Curtis Mayfield record and some other Soul artist because there's a deeper feeling you get when you hear that music. It's soul shifting and riveting and I want them to understand the difference between putting out music to hear and music that touches you internally for eternity.
Crooked I: I've got two daughters and a son. I don't really talk about my kids like that, because I used to be on a label where kids got kidnapped. But anyway, I play radio versions. I don't let my kids listen to pops going the fuck off. I don't know. I just want hem to have a different life than I had. I used to listen to N.W.A. and all that shit when I was like nine or 10 years old. It kind of made me a monster. [Laughing] So, I don't let them listen to that shit. But you know what? The funny thing about my kids is that they don't even really like Rap. They think Rap is weak nowadays. They always hear me in the garage, my pre-production spot. They hear me making music and when they listen to TV rappers and people on the radio, they don't say this but I know they're thinking, "Man, that shit is weak." So, no. My kids listen to Rock. My kids listen to Rock & Roll. They don't even listen to Hip Hop. [Laughing] That's the truth.
Bonus: Madagascar stars Chris Rock and Cedric The Entertainer recently opened up about what their kids listening to. According to Chris Rock, his kids listen to Willow Smith. "21th Century Girl'? Oh my God. [Lola,9, and Zahra,8] also love LMFAO, but they have no idea what it stands for."
Cedric's kids, however, are stuck on R&B. "I try to hip them to the old school," said Cedric of children Croix, Lucky Rose, and older daughter Tiara. "'Love Train' by the O'Jays. We play them 'Super Freak' by Rick James—don't judge me as a parent! But it's a fun song for kids."