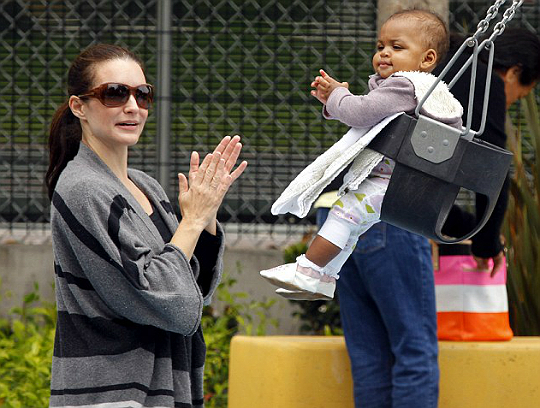 Kristin Davis and baby Gemma enjoyed a day at the park in Los Angeles yesterday. Looks like little Gemma loves the swing.
Davis recently opened up about her decision to adopt domestically with Good Morning America. The actress states, "I had seen too many nighttime television shows about the drama [of domestic adoptions]. I was very nervous. I had planned to do it internationally, but I realized the wait was three to five years and I just couldn't wait that long. Here in our country we have kids in need and the foster system is not really a great option. Once I made the decision, it moved very quickly and I have a beautiful, healthy, baby girl."
Kristin was happy to enter the world of motherhood after all papers were signed and official but she was nervous about the transition. "When I first got her I would sleep with her on my chest," Davis states,"when you adopt you're very concerned about bonding. You're not supposed to have comforters or anything around, obviously, because they could suffocate. So every night I would have these nightmares that she's under the comforter. I still — seven months later — have that. I'll wake up and be like, 'Where's Gemma? Where's Gemma?' … and she's in her crib, safe and sound."
Source:Yahoo.com
Don't Miss Out! Allow Notification Click Here..