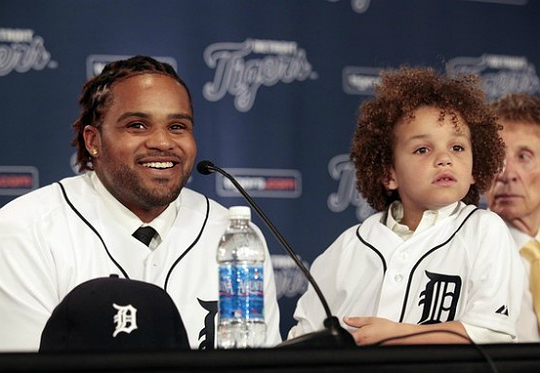 Prince Fielder sits with his son Jaden, 7, at the podium during a press conference announcing that Fielder has agreed to a $214 million, nine-year contract with the Detroit Tigers in Detroit, Michigan on January 26, 2012. Fielder's contract is the fourth largest in baseball history and allows for trading during the first five years of the agreement.
When asked about his historical agreement Prince said, "This is awesome. It's kind of a dream come true. I'm excited. I'm just ecstatic about being with the Tigers. I'm just here to enjoy the day."
Although Fielder's contract is risky because of its length, the Tigers' owner is comfortable with the terms of agreement. "I go by my instinct, like everybody else does. My instincts told me that this is going to work out fine."
The Tigers have not won a World Series since 1984. The Michigan-based team hopes that recruiting Prince will increase their chances of victory.
Photos: REUTERS/Rebecca Cook