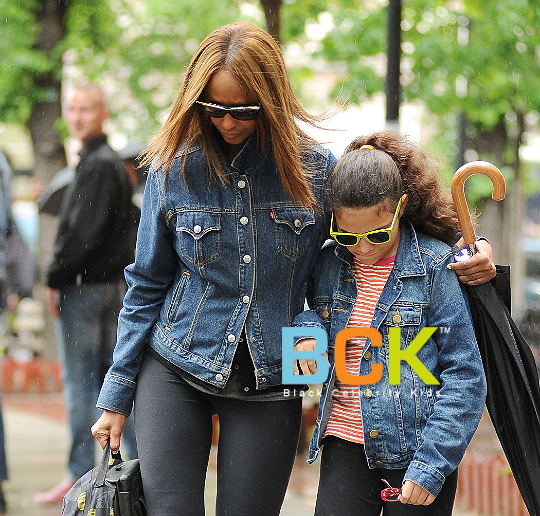 "I'm a very easy-going person. My daughters make me happy. A good-weather day makes me very happy lately. Obama. Any pictures of Obama and his daughters are uplifting. It's easy to be happy," says model Iman, who is mom to daughters Alexandria,11, and Zulekya,33.
Find out what else the fashion icon has to say about life and her daughters in her latest interview with HuffingtonPost:
On teaching her little daughter about how to care for her skin:
I've been using my cosmetics and skin care, Iman Cosmetics, since I created [the line] in 1994. Religiously. I don't believe in lots of things to do with your face, but cleanse, moisturize. Young girls aren't taught that — they just see a lot of cosmetics, which isn't good. It's easier for them to put on, since it changes the look, but it doesn't encourage them to take care of their skin. I tell my little daughter, who's eight years old, it's like brushing your teeth. You do it twice a day.
You can get Iman Cosmetics specifically at Sears, and it's a line for women of color — regardless if you're Asian, East Indian, African, whatever. Even white people can use it, if they want to look tanned [laughs].
On only celebrating her younger daughter's birthday:
I'm African, so it's all good. We don't stress about that stuff. We don't celebrate birthdays. I know I'm 53, but my birthday isn't something I dread or look forward to. The year starts and it's downhill from there [laughs]! My younger daughter's American so we celebrate for her
On a typical day with her younger daughter:
Because there's an 8-year-old involved, it's constantly go-go-go. I wake up usually around 6:30 a.m., have coffee, read the paper, wake [my daughter] up around 7 a.m. and then have breakfast with her and then I take her to school. Maybe I'll go to the gym, and then to the office. I'll stay there for a couple hours, and then pick her up after school — sometimes we go and do things afterwards. That's a typical day.
On whether or not she plans to stay in New York in the foreseeable future:
Yes, that's where she goes to school, so we'll be sticking around. It's funny, the first time I made a lot of money, the first thing I did was buy a plane ticket to New York. I love it there.