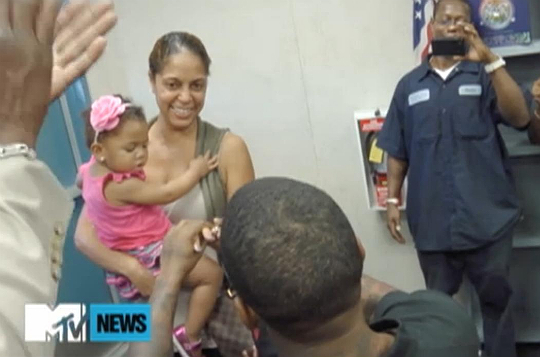 Rapper The Game has proposed to his longtime girlfriend Tiffany Cambridge, who happens to be the mother of two of his kids. On Wednesday afternoon (October 12), the West Coast rapper surprised Cambridge with the proposal at Frank D. Parent Elementary school in Inglewood, California, where she works as a teacher.
As told by MTV News:
Game staged the big surprise at Frank D. Parent Elementary School, where Cambridge works as a teacher. The school's principal even got in on the plan, calling Cambridge to an afterschool "meeting" where Game was waiting anxiously with the couple's two children.

Cambridge arrived with a big look of suspicion on her face to a room full of people. As family, faculty, media and the couple's bishop looked on, Game got down on one knee and said, "I just wanted to ask you: Would you marry me?"

Game's girl immediately answered with, "Oh, yes, Jayceon" (his actual first name), and the two embraced to a cheering crowd.
Game and Tiffany, who have been together for seven years, have two children together: a son named King Justice and a daughter named Cali Dream. The MC also has another child from a previous relationship named Harlem.
Watch the surprise proposal below: