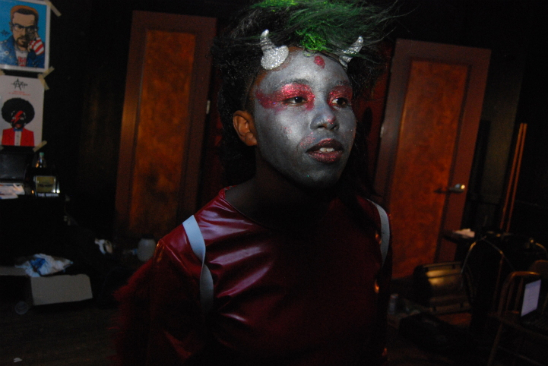 Saturn Williams,14, watches her dad perform in North Hampton this year.  Think she looks a little eccentric?  Then you have probably never heard of her dad: poet, writer, actor and musician Saul Williams a.k.a Niggy Tardust.
Get to know Saul Williams, the family man, in an interview conducted with website Afro Punk late last year. See an excerpt of the interview below:
Saul on being on the road and not being able to spend time with his daughter Saturn and his son Xuly.
The flip side of this that nobody really seems to get is that you can look at my tour schedule and say wow, but when I'm home, I don't have a nine to five. So when I'm home, the time that I have with my kids seem more than what I see my sisters have because they work nine to fives. So when I'm home, I am home.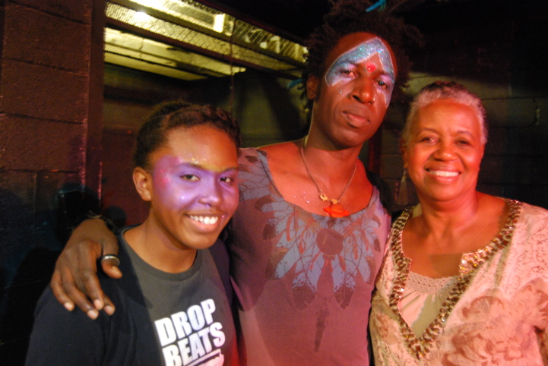 On living the Jet-setting family life: Usually in February I speak in schools in the states, Black History Month, poets come out and speak, usually between Martin Luther King's birthday until the end of February. I usually speak a lot at schools. But yes, I do feel like I spend a lot of time with my kids, however, the lifestyle is not conventional, that's the only thing that's awkward about it, it doesn't fit into any conventional realm of conception or perception. My daughter's mom is a painter and my son's mom is a choreographer and my son's mom is as much of a jet setter as I am. So the world that he knows is a world where mom and dad trade off moving around the planet and dragging him with them, so that's what he knows. He's nine, and he spent the summer in Paris and right now his mom is in Germany, while I'm here.
On being a jet-setter like his dad: My confidence in jet-setting comes from having a jet-setter as a dad. My dad was a pastor of a baptist church and he traveled a lot. He was always on the go, and I loved my dad, but I never missed him. I don't mean that in a mean way or in a bad way, but it was like, I knew where he was. I knew he loved me and I knew he was busy, and I loved how busy he was. In fact I bragged on him, like, my dad is in so-and-so right now.
On having his daughter Saturn on tour with him: The thing is, Saturn was born in 1996 when I was in Brooklyn in the middle of all of my poetry readings, Saturn was there with me. There are countless images of me from 96′ to 99′ in New York City, doing performances with a kid in a back pack behind me.
From the moment I saw those baby back packs that you can use from the time they are four months old, I just loved those. So I couldn't wait for Saturn to turn four months old because it was so much easier than the stroller.
On the significance of his daughter's name:  First it was just me and then I found it again in Australia, I was in tour in London, and I just thought it was cool, and I never really felt a need to take it off. But you have to understand, I was writing about Saturn, the planet Saturn, before my daughter, Saturn was born, and I felt a connection with the planet. For instance, Saturn is the only planet in our solar system that can exist outside of our solar system because the center of the planet itself is so hot it could exist as if it had its own sun. And the reason it's so hot is because it is composed as what quantum physics call dark matter, and in our ozone layer, those same elements are called melanin. And I would write about it, and it always freed me up.
BCK Says: FYI, Saul is no longer with actress Persia. The two have gone their separate ways, but remain friends.