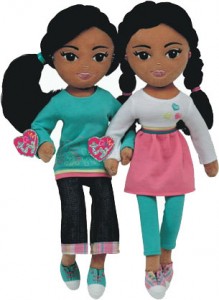 The company that makes the ever so popular Beanie Babies has taken the controversial "Marvelous Malia" and "Sweet Sasha" dolls from its Ty Girlz collection — out of respect for the Obamas who protested against the use of their daughters names and images.
Via NyTimes:White House officials were very, very pleased on Tuesday after learning that the company that makes Beanie Babies had decided to stop selling its Sweet Sasha and Marvelous Malia dolls.
A spokeswoman for the first lady, Michelle Obama, had protested that the dolls were inappropriately using "young, private citizens for marketing purposes," even though the company, Ty Inc., insisted that the dolls were not intended to depict the Obama girls, Malia, 10, and Sasha, 7.
Still, the brown-skinned, brown-eyed dolls, which were introduced in January, bore a passing resemblance to the first daughters. On Tuesday, the company's Web site included pictures of the two dolls beneath a red sign that read "Retired."
If you're a doll collector with the original Obama girls dolls, then perhaps this is very good news for you.