When a partner has an affair, it is difficult for the adults in the situation to navigate and can be, almost more than times than not, "devastating," if there are any children involved. Former Boston Celtics coach Ime Udoka is trying to mend the damage that his caused his 11-year-old son, Kez, with whom he shares with actress Nia Long. Recently, the 45-year-old revealed that he underwent sensitivity training and counseling with his son after his affair.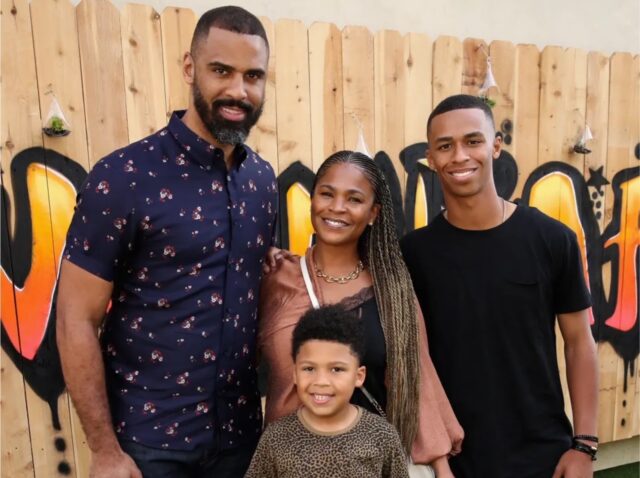 In a press conference, announcing that Udoka will now be the new head coach of the Houston Rockets, he was asked about the affair and responded, "Overall, I released a statement months ago, when everything happened, and apologized to a lot of people for the tough position that I put them in, and I stand by that. I feel much more remorse, even now, towards that."
Udoka continued saying, "I spent this last off-season working on myself in a lot of different ways, improving in areas, a chance to sit back and reflect and grow, and I think that will make me a better coach and leader. But, the situation's been resolved, and I can't really speak much about it."
That "self-work and improvement," also included working on his relationship with his son "to help him improve in the situation that I put him in."
Reporters also asked Houston Rockets team owner Tilman Fertitta and GM Rafael Stone to weigh-in on their confidence and comfort in Udoka's competency to lead the Houston team.
"The NBA told me that they feel very comfortable with Ime becoming coach of the Houston Rockets, and so that made me feel good after a lengthy, lengthy conversation with them," Fertitta said. The businessman and television personality also said that he did his "due diligence" before making the decision to hire Udoka.
Udoka added that his past did not influence Fertitta's decision to hire him.
"Like Tilman alluded to, they've done their due diligence and homework on who I am as a person, and I think that we spent quality time together and getting to know each other and clicked pretty easily and pretty well"
Ime Udoka asked about what happened with him while he was the head coach of the Celtics: pic.twitter.com/l3jmmNonv6

— Mark Berman (@MarkBermanFox26) April 26, 2023
Kez Sunday Udoka is the only child of the new Houston Rockets coach and the second child of Boyz N the Hood actress, Nia Long.
Photo Credit(s)/Featured Image: Nia Long Instagram; Mark Berman Official Twitter; Randy Shropshire/WireImage