John Legend is vying for father of the year as he is pitching in to help around the house, giving his wife Chrissy Teigen a break after the couple welcomed their daughter Esti Maxine last month.
The father of three exclusively told People Magazine that, "Obviously I can't breastfeed her, so I help feed when we use the bottle. I'm happy to change diapers. I'm good at burping her, too."
The 44-year-old R&B singer admitted another thing he's pretty good at to the popular entertainment news outlet…singing lullabies.
"I just started singing to her a little bit," said and added, "Chrissy's good at lullabies, too. I try to help as much as I can, you know, to give Chrissy a break."
In addition to Esti Maxine, Tiegen and Legend are parents to six-year-old Luna Simone and four-year-old Miles Theodore. The proud papa was asked how are Esti's big sister and brother taking to the new arrival, and he said that they have been "really loving."
"Our older kids are really into being older siblings, which we weren't sure about," he said to People in his interview. "It seemed like they might be jealous when Chrissy was pregnant. But since Esti's been born, they've been really loving and wanting to hold her and feed her — just wanting to be good siblings."
Teigen first shared the news that she was expecting a new bundle of joy in August of 2022. The cookbook author revealed that she had undergone IVF, nearly two years after she and Legend lost their son, Jack, at 20 weeks gestation.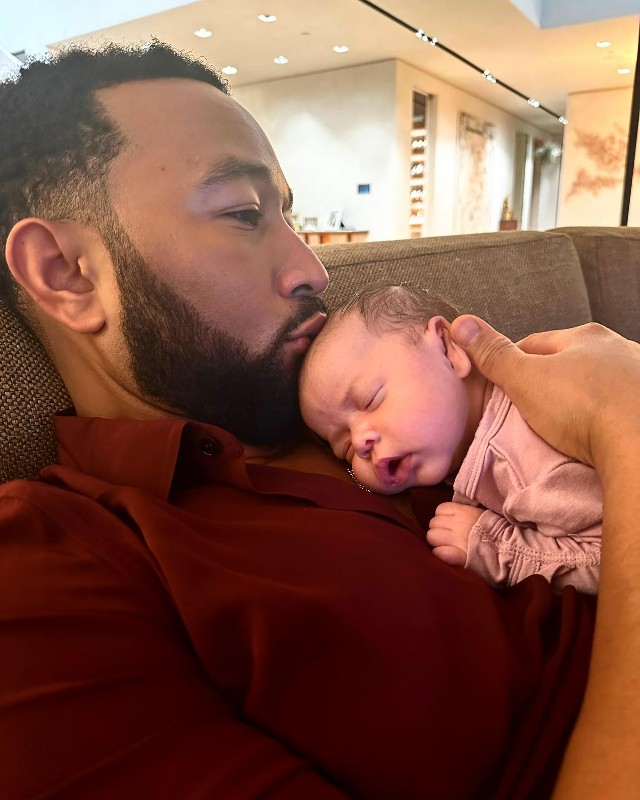 "The last few years have been a blur of emotions to say the least, but joy has filled our home and hearts again.1 billion shots later (in the leg lately, as u can see!) we have another on the way," Teigen captioned a photo of her growing baby bump upon announcing her pregnancy. "Every appointment I've said to myself, 'OK, if it's healthy today I'll announce' but then I breathe a sigh of relief to hear a heartbeat and decide I'm just too nervous still. I don't think I'll ever walk out of an appointment with more excitement than nerves but so far, everything is perfect and beautiful and I'm feeling hopeful and amazing."
Esti Maxine was born on January 13, 2023.
Photo Credit(s)/Featured Image: Chrissy Teigen Instagram; John Legend Instagram