Colin Kapernick can now add author to his growing list of amazing accolades. The talented quarterback has penned a new children's book that encourages Black children to embrace their identities.
"When I was 5-years-old, I was given an assignment in school: 'draw a picture of yourself and your family.' I drew my white adoptive family with a yellow crayon and then picked up a brown crayon to draw myself," the former San Franciso 49ers player told People Magazine in an interview.
He continued to discuss the assignment's impact with the popular news outlet saying that the "revelatory moment taught me an important lesson about embracing my Black identity through the power of self-love and eventually helped me to understand how my brown skin was connected to my Blackness. Above all, I hope that I Color Myself Different can inspire young people to embrace their power, love themselves and walk in the truth of their own path."
I Color Myself Different was released via Kapernick's publishing company, Kaepernick Publishing and through a multi-book deal with Scholastic. This is the first children's book for the former NFL player.
"I always loved reading but I wish there could have been more books at my disposal that reflected my own identity and experiences," Kaepernick said in a statement. "In part, this is why I wrote I Color Myself Different. I want young readers — particularly young Black and Brown readers — to see themselves as central to the stories we tell."
I Color Myself Different is now available via KapernickPublishing.com, Amazon, Target, Walmart, Books-A-Million and other major book retailers.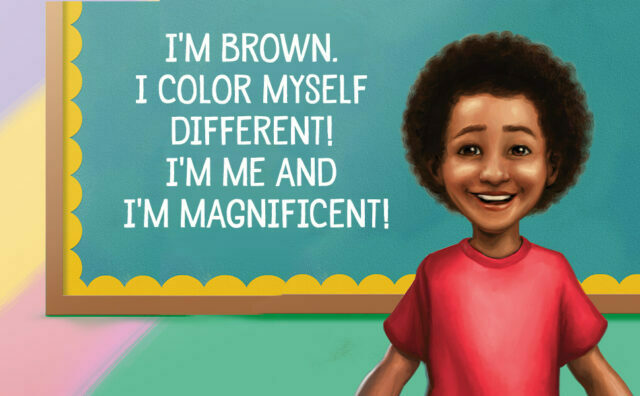 Let's see what some of the reviews say below!
One Amazon purchaser wrote, "This is a great book that will reinforce the message to children of color to be proud of who they are and to embrace their beauty."
Another agreed, saying that her son had to read it twice in one night, "Omg, yes! This is officially my new modern favorite children's book. My son read it one time, then immediately brushed his teeth and asked Daddy to read it to him again in bed."
A third said, "Just read this wonderful story to my adopted 6-year-old son who happens to be a different skin tone. He immediately made connections about the characters in the story and to our family. Really love how the book is written and how it is illustrated. Bravo Mr. Kapernick."
I Color Myself Different is geared towards children ages four-eight-years-old. And it is unquestionably a must-have for any child's personal library!