Marcus Black and Brooke Valentine's daughter, Chi Summer, is a daddy's girl. Just see for yourself in the video below!
Many fans could not get over the incredible bond put on display in Marcus and Chi's video. "Only the cutest," one fan said after watching the clip above. "I love daddy-daughter videos." Another of Marcus Black's Instagram followers wrote, "May God continue to bless you and your family. She's so beautiful!"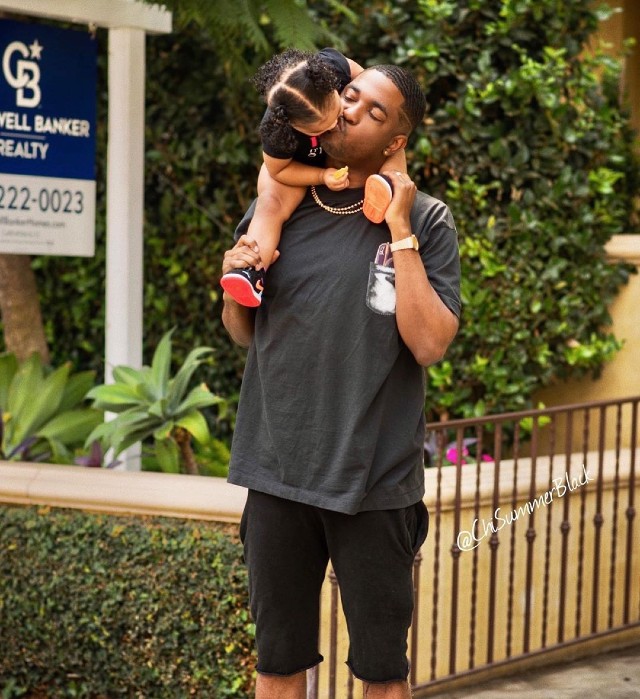 Chi Summer celebrated her first birthday earlier this year with her family. The youngster could not have an all-out bash because of lockdowns caused by the coronavirus pandemic. Chi did, however, have lots of balloons and sweet treats.
Marcus Black and Brooke Valentine surprised the masses when they announced the arrival of their daughter last May. Many did not even know the two Love and Hip Hop: Hollywood (LHHH) stars tied the knot in marriage. The general public certainly did not know Brooke and Marcus were the parents of a little girl. Marcus announced his daughter's birth while paying tribute to his wife on Mother's Day 2019.
"Through all the ups and downs, high-risk appointments, hospital stays, and life's uncertainties you stayed solid," Marcus wrote to Brooke. "You've always been ten toes down," he said. "I never had to question where you stood in my life. My plan is to multiply your investment in my purpose. I love you without conditions."
Chi is Marcus Black and Brooke Valentine's only child together. Brooke also has a son named London and Marcus a daughter named London from previous relations.
Photo: Marcus Black/Instagram