Steve Wonder and his sons, Kailand and Mandla, are on the cover of ODDA magazine. Kailand expressed excitement about the magazine feature.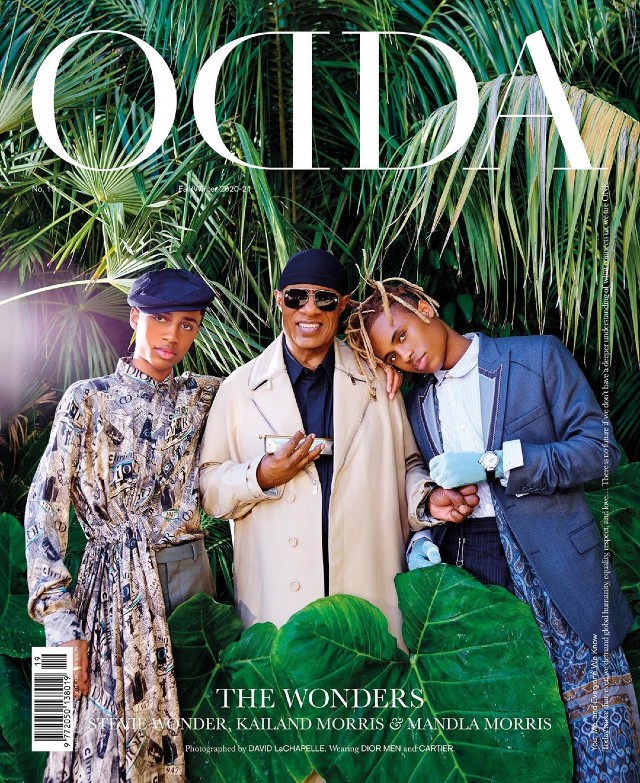 "So much love to this amazing team and everyone who contributed to making this happen," Stevie Wonder's son shared with his Instagram fans. The youngster also uploaded a picture that showed the cover of the magazine's upcoming issue.
According to its website,
"ODDA magazine is a biannual, contemporary fashion and culture magazine and founded by current Creative Director and Editor in Chief David Martin in April 2012.

By speaking out for creatives, artists, philanthropists, gallerists, actors and actresses, models, and people who participate in and nourish culture from an active perspective, ODDA is a platform where self-expression, imagination, and dreams are brought to the next level. By discovering new meanings to those feelings, the magazine is also strictly connected to everything that brings excitement and passion."
The current issue of ODDA is titled, "You, Me, And Everyone We Know." Stevie Wonder certainly knows a lot of people throughout the world as his legendary music career and work in philanthropy have allowed him to meet individuals from various cultures.
"ODDA speaks on the delicate balance and union between all of humanity and Mother Nature," David Martin shared in a recent Instagram post that promoted Stevie Wonder and his sons' cover. "[The magazine speaks on] the interconnectedness of our lives and emotions, and highlights the importance of family and connecting to one another for support since at the end of the day, we all belong to the same planet," Martin added. "We are all ultimately ONE."
Pick up your copy of ODDA magazine's latest issue today. Stay tuned for more Stevie Wonder family news!
Photos: @david_lachapelle