For months now, rumors have been spreading that Chris Brown's ex-girlfriend, Ammika Harris, is pregnant with the singer's second child. As a result, some of Chris' most dedicated fans have been scouring Ammika's Instagram photos in hopes of finding signs of a baby bump.
After digging around for the past few months with no such luck, some fans have concluded that Ammika has been posting throwback photos because of her reported pregnancy. "A lot of throwbacks lately. lol cute though ," one such fan wrote.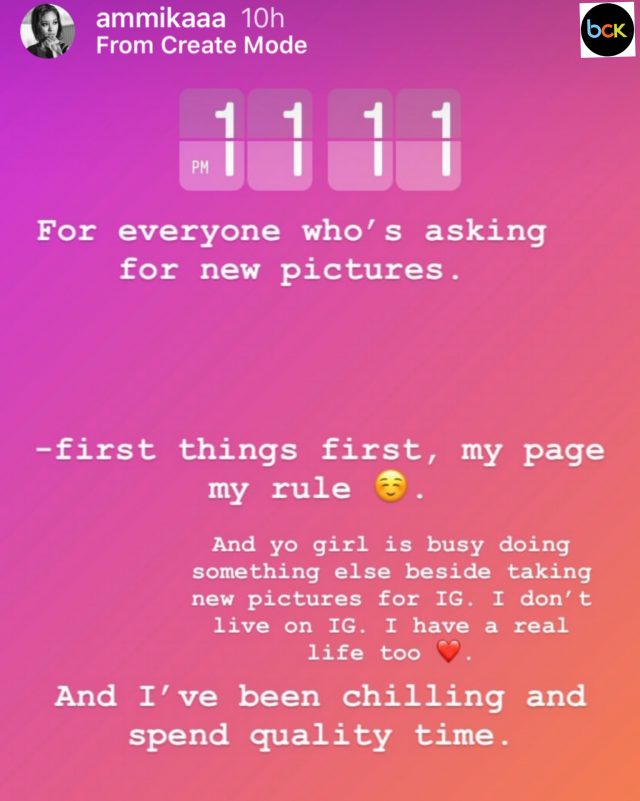 On Thursday (October 31), Harris posted a message on her Instagram stories in response to those questioning why she has been posting throwback photos. She began, "For everyone's who is asking for new pictures" and continued, "First things first, my page, my rules. And yo girl is busy doing something else beside taking new pictures for IG. I have a real life too. And i've been chilling and spend[ing] quality time."
In August, TMZ reported that Harris is pregnant with Brown's child. Source tell the publication that the former couple is having a baby boy. In addition, even though they are "no longer together — [they] are getting along well. She's happy with the way Chris is treating her … financially, medically and emotionally."
If the rumors are true, this will be Harris' first child. As for Brown, he shares a five-year-old daughter, Royalty, with Nia Guzman.