Swizz Beatz and Alicia Keys' son, Egypt Dean, is such a mini entrepreneur. The celebrity parents' oldest son recently managed to sell a uniquely crafted home, made of cardboard, for upwards of $150.
Egypt accompanied his mom on the set of the creation of a video to promote her new single, 'Show Me Love.' The 8-year-old was taking in the creativity surrounding him when he got an idea of his own. Why not design a home made of cardboard? Egypt worked on his idea for two days with the result being a two-story home with an elevator.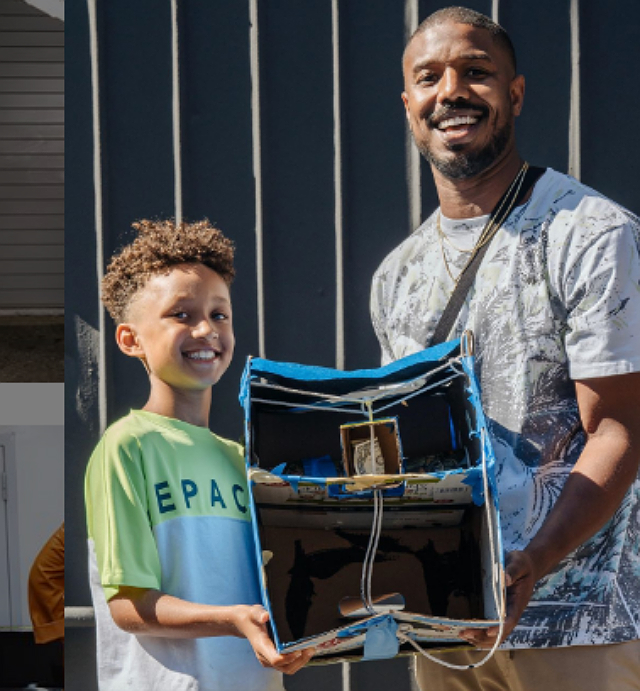 "He's always trying to figure out ways to increase his financial situation," Alicia Keys revealed in a video clip. "He is an entrepreneur," she added.
Zoe Salanda and Michael B. Jordan saw Egypt's hustle and appreciated it. The Black Panther star, who is collaborating with Alicia Keys on her new project, ultimately won the bidding war by offering to pay Egypt $150 plus tip. "I'm gonna give you an extra 20 [dollars] if you sign it for me," Jordan told Egypt. "You remember this moment," Keys told her son. Is this the start of something big for Egypt? We think so!
Alicia Keys further doted on her son's entrepreneurial spirit in an Instagram post. "What if I told you my son Egypt was an entrepreneur," Keys asked her social media fanbase. "What if I told you that the box he made was not just a box but a model of a modern home? What if I told you that tape roll you see on the second floor is actually a jacuzzi?" Alicia alluded to the notion of her son making the Forbes list someday. Such a statement may be a reality sooner rather than later with Egypt's creativity and business savviness!
Alicia Keys and Swizz Beatz have two kids, Egypt and Genesis, together. Egypt celebrates his ninth birthday in December. Stay tuned for more celebrity kids news!
Photo: Alicia Keys/Instagram