Introducing Moses Greener! Tamron Hall's baby boy made his television debut on the most recent episode of his mom's show as a part of Tamron's birthday celebration. We are here for all of the cuteness!
The crowd cheered at the sight of baby Moses. Of course, the little one was ready for the crowd as he rested in his mom's arms while showing off his charm.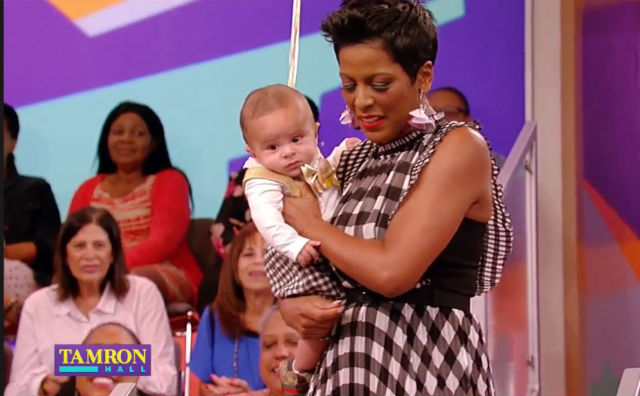 "We brought him into the studio for his first visit when they were building the set and I am not kidding you, my child saw that camera and locked in and just owned it," Tamron told PEOPLE exclusively. "I'm like, 'I need to get you a little suit and a tie.'" Moses is a major television hit!
Tamron Hall's latest episode was dedicated to the IVF process. The celebrity mom recently told SheKnows that the motivation behind her show was to give hope to women presently enduring fertility issues.
"You're not alone," Hall shared with the media outlet. "There's a stigma that relates to IVF and infertility, that people feel if they share it they will be judged or stereotyped," the celebrity mom explained. "It's important to take topics like that and break them down. A show like ours has the unique ability to do that. With great producers, we're able to put this all this together. I think this is an extension of what we said we should do when we started the show. We all know people who've been through IVF and we're giving them a voice."
Moses is Tamron Hall and husband Steve Greener's only child. The couple welcomed their son in April. Check your local listings to see when Tamron Hall airs in your area. Stay tuned for more celebrity baby news!
Photo: Tamron Hall Show