Kim Kardashian West is giving life with the latest photos of her with her kids. The Keeping Up With The Kardashians star recently shared a first candid of her with all four of her children – Chicago, Saint, North, and Psalm – at the beach.
Kim and the kids were enjoying a day in the Bahamas when they decided to pose for a beautiful candid. All four of the kids have their attention focused elsewhere in the photo. Kim also looked away from the camera as she watched her daughter, Chicago, play in the sand.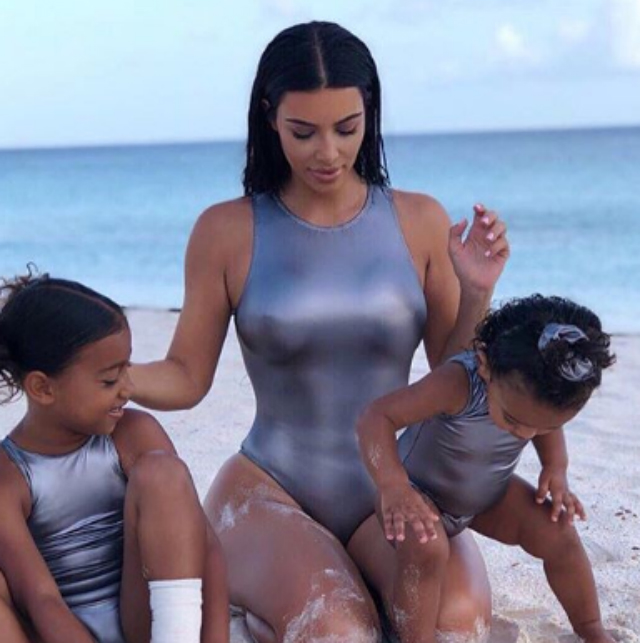 "I thought taking a pic with three kids was hard," Kim said. "This is almost impossible," the celebrity mom exclaimed.
It was just a few weeks ago that Kim Kardashian told her Instagram fans that being the mother of four children is not as bad as she thought it would be. "I was freaking out for nothing," Kim revealed. The KUWTK went on to tell fans that her youngest son, Psalm West, "is the most calm and chill of all of my babies so far and everyone loves him so much."
Psalm definitely appeared calm in the candids. His older siblings, however, definitely appeared to have their sights on other things while their mom was trying to take a picture on the beach.
"I remember the medium saying your next child would be just like your dad," one fan said when comparing Psalm's calm demeanor to that of the energy that his older brothers and sisters brought to the photo. "I don't believe in mediums but I can't help thinking about your dad whenever I see Psalm – even in this pic he looks like an old soul to me," the fan concluded.
Kim Kardashian and her husband, Kanye West, welcomed their youngest child in May. Stay tuned for more Keeping Up With The Kardashians baby news!
Photo: Kim Kardashian/Instagram