Gabrielle Union is loving the skin she's in and absolutely enjoys spending her days with her baby girl, Kaavia James Union Wade. The celebrity mom recently shared candids of her with her daughter poolside.
"My lil mermaid," Gabrielle captioned underneath one photo of her hanging out with baby Kaavia. "My roadie," the America's Got Talent judge added. "@kaaviajames is 8 months old today," Gabrielle revealed. "It's going waaaaay too fast," she concluded.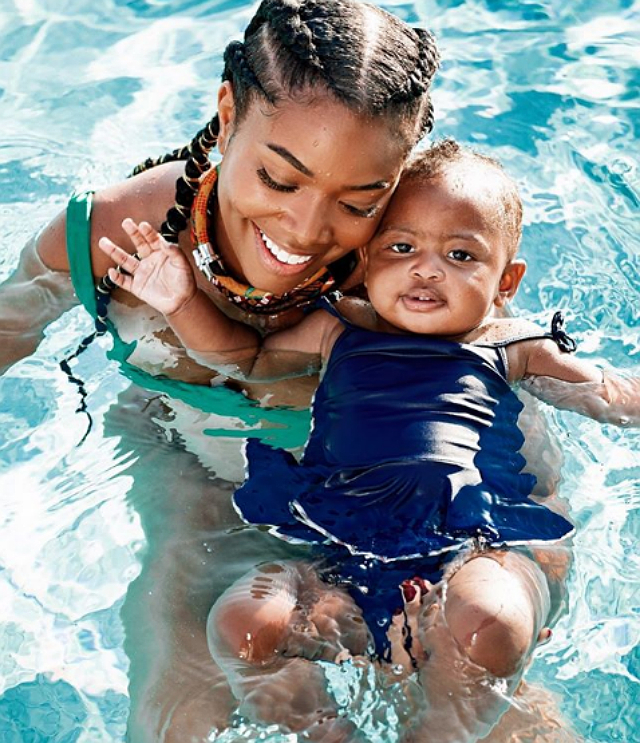 Time does appear to be speeding through when it comes to Kaavia James Union Wade. It seems like it was just yesterday that fans learned of the little one's birth via a candid that showed Gabrielle holding her baby girl while dressed in a hospital gown. Some critics scrutinized Gabrielle for wearing a hospital gown seeing as how Kaavia James was born via a surrogate. Dwyane Wade, Gabrielle Union's husband, said that such criticism came from a lack of knowledge.
"For me, the most hurtful thing was once we had our baby and everybody started talking about, 'Why is she in the bed holding the baby? Why she got a gown on? Why is she acting like she just had a baby,'" the celebrity dad said. "People are uneducated on the process and why we decided to go skin-to-skin as soon as our baby came out," he concluded.
Gabrielle Union does not allow herself to be overwhelmed by the scrutiny. She instead prefers to enjoy her baby girl. "The first thing I do when I get home from taping AGT is [to] go smell my baby," Union said during a recent promo spot for America's Got Talent. "I say smell because she is a light sleeper and I try not to wake her up," the celebrity mom explained. "So I get a good little whiff of the back of her head. It's my nightly ritual and there's no sweeter smell than the back of my baby's head."
Kaavia James Union Wade is Gabrielle Union and Dwyane Wade's only child together. The celebrity couple parent four kids in all. Stay tuned for more celebrity baby news!
Photos: April Belle Photos