Khloe Kardashian has her daughter True Thompson's approval on her new makeup line made in collaboration with BECCA cosmetics. The Keeping Up With The Kardashians star recently shared photos of her daughter inspecting her mom's latest cosmetic venture while sitting in the bathroom's sink.
"My little Becca Bff approves of mommies and aunties collab with @beccacosmetics," Khloe told her Instagram fans. "True's makeup tutorial will be uploaded shortly," the celebrity mom mused. Khloe immediately told fans to remain calm about the notion of True wearing makeup. "I'm just kidding about the tutorial guys," the celebrity mom said.
BECCA x Khloe Kardashian offers everything from eyeshadow palettes to lipstick. One product that is especially notable is the full-face palette, which gives cosmetic lovers the pleasure of having blushes along with a bronzer and highlighter in one package. The full-face palette is created to work well with the priming filter by Khloe. The primer is meant to both refresh and provides a more complete finish.
Khloe Kardashian revealed that motherhood has changed her makeup routine during her most recent interview with ET. "There's been a lot of nights where I would fall asleep with my makeup on, which I never used to do," Khloe admitted.
"Mom life is a juggling act, but just learning how to put some highlighter on — and highlighter's a little distracting," the celebrity parent further explained. "So even if you have a breakout, you're like, 'OK, I don't have time for concealer.' And giving your daughter makeup brushes goes a long way. I learned that. I'm like, 'OK, you're good, right?'" True definitely appears to be okay with playing with her mom's makeup brushes.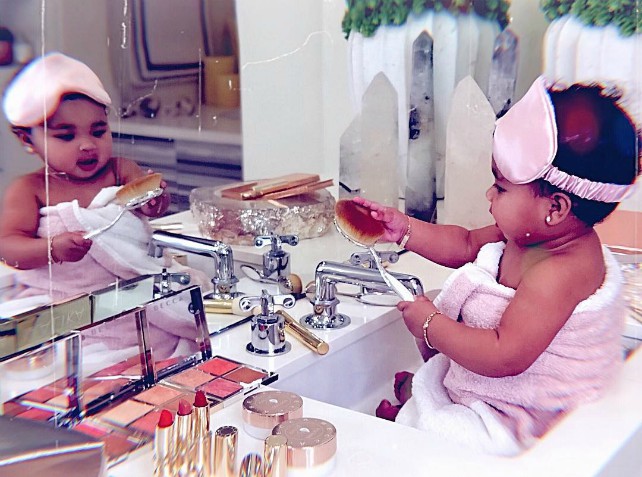 Khloe Kardashian is mindful of her partnerships in life. The celebrity mom explained her reason for proceeding with caution when collaborating for new business ventures and personal relationships during a 2016 interview with Harper's Bazaar.
"Our family has way more information about [us] online than any other, and it's always so bizarre when you meet someone and see their perception of you," Khloe shared. "Sometimes I feel like I have to prove people wrong, and that's weird. It's easy to meet people, but you don't know if you're meeting them for the right reasons. Knowing who to trust is hard."
Khloe Kardashian's trust in BECCA has the power to pay off in a big way. Learn more about the Keeping Up With The Kardashians star's new cosmetics line here!