Angela Bassett is always finding ways to inspire others. Her role in the hit Marvel film Black Panther follows in that tradition by showcasing her as a warrior for her people. Bassett recently told Vanity Fair that she and her husband Courtney B. Vance like to keep their children away from film sets, but Black Panther was an exception.
"We try to keep them doing their own thing, out and away from it all. But [Black Panther] was one that we felt it was imperative that they experienced and witnessed. It's an iconic film. It's such positive images," Bassett said. "They can see themselves in a light as warriors, as heroes, as kings, as queens, and potential panthers. All things positive. I really wanted them to experience something that in the way they carry themselves, how they walk through the day, with their heads held high and their chests poked out, feeling good about who they are."
Angela has impressed fans worldwide with her incredible acting skills for more than two decades. Many cannot forget her superb portrayal of Tina Turner in the 1993 film, What's Love Got To Do With It?. Angela transformed into the legendary singer to the extent of viewers forgetting that she was merely acting out Tina's role.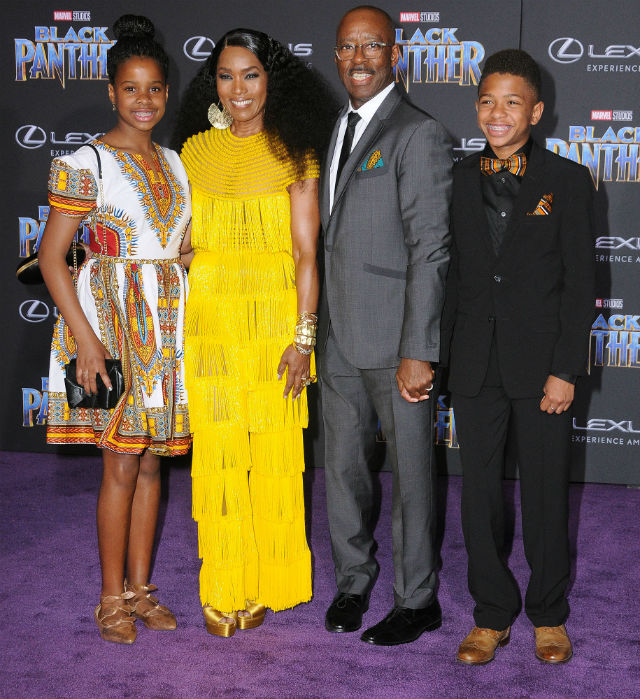 "If you're passionate, you have a great shot at being successful," Bassett tells Closer Weekly. "I've learned to always keep my head up," she adds. "I'm living my dream. I've come to understand that I possess a strength that people can feel and appreciate, a strength and sensitivity. I feel very blessed."
Angela Bassett and Courtney B. Vance, are the proud parents of a son, Slater, and daughter named Bronwyn. The twins celebrated their twelfth birthdays in January.