What is wrong with the marketing team for some of these brands? H&M is the latest to launch a promo campaign that was less than racially conscientious.
For some reason, H&M deemed it fitting to feature an African-American boy wearing a hoodie that read, "Coolest Monkey In The Jungle" across the chest area. Did they miss the whole hoodie protest after the death of Trayvon Martin? Do they not know that the word "monkey" should never be used in reference to an African-American? Really?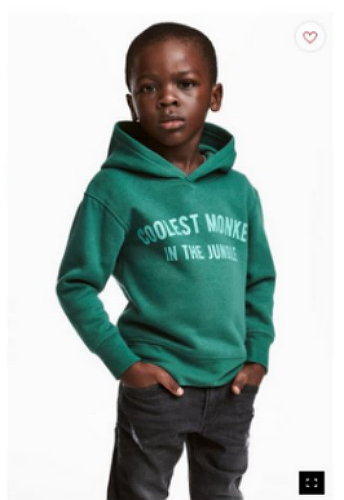 Anyway, Twitter had an absolute field day with H&M before the brand decided to remove the ad from its online platform. "@hm, have you lost your damned minds," Charles M. Blow, author of Fire Shut Up In My Bones asked. One of his followers tweeted a bit of insight about the company.
. @hm, have you lost your damned minds?!?!?! pic.twitter.com/EYuCXLZtv3

— Charles M. Blow (@CharlesMBlow) January 8, 2018
"I worked for them for years and they're clueless sometimes," @HasaniReyes wrote. "The head office in Sweden is very disconnected to issues of racism, cultural and social challenges. They seriously probably think this is cute."
That was my first thought. Europeans are so clueless about what is offensive in different markets. Time for some PR fast talking and apologies.

— Steph (3bagsfull) (@3bagsfull) January 8, 2018
She further explained, "100% this does not come from a bad place but more from not understanding other cultural & social challenges. They're a great company to work for and are really good to their employees."
In any case, H&M removed the ad and issued an apology for the uproar it caused. "This image has now been removed from all H&M channels and we apologize to anyone this may have offended," the brand told media.
Will these marketing teams never learn?
BCK Says: Share your thoughts below!