There's never a dull moment in Thomas Rhett's household. The country singer and his wife, Lauren Akins, tell PEOPLE how they are adjusting to family life after welcoming a newborn and toddler into their home within a matter of months.
The Rhett's adopted their oldest daughter, Willa Gray, from Uganda a few months back. Lauren was pregnant with her and Thomas' second child, Ada James, at the time. Ada was born on August 12, 2017, with Willa available to show her younger sibling the ropes.
"There's never a dull moment," Lauren tells PEOPLE. "We're tired, but we're happy," she exclaims. "The blessings around us are incredible," Lauren adds. "We feel like it's all part of the plan."
The Rhetts were dealing with the devastation of being unable to conceive when they decided to adopt Willa Gray from Uganda several months back. Only after their decision to adopt was final, and the ball was in motion, did Lauren conceive little Ada.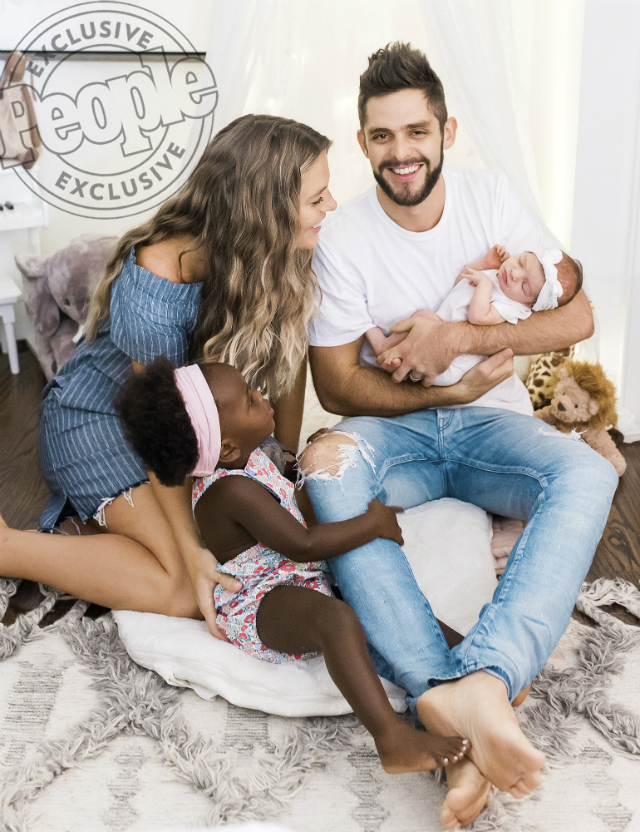 The excitement of having two children became a bit cloudy when the Rhetts learned that they would have to travel from the United States to Uganda frequently before the adoption agency in the country finalized the process of the couple becoming guardians of little Willa. Nevertheless, Thomas and Lauren fulfilled all of the requirements and welcomed their oldest daughter into their home in May.
"You almost couldn't tell that she ever lived anywhere else," Thomas says of Willa. "She's such a go-with-the-flow child."
Thomas' fan base has already fallen in love with Willa and her occasional appearances on-stage at dad's shows. There's no telling how much more energy this little one will bring to the table now that she's a big sister.
"When she came home from Uganda, she didn't skip a beat," Lauren says. "Going from Uganda to America, nothing. Having a baby sister? World changing!"
Stay tuned for more Lauren and Thomas Rhett celebrity baby news!
Photo: PEOPLE