Who needs Rocky and Apollo Creed when you have eight-year-old twin brothers Daniel and Steven! The duo, who started boxing when they were just three-years-old, have taken the internet by storm with their sensational skills so much so that their original video has been shared by Snoop Dogg, George Lopez, Shaquille O'Neil, 50 Cent, and others, in addition, they have appeared on Fox Sports, ESPN, and most recently, NBC's hit, Little Big Shots with Steve Harvey.
Born in Philadelphia, the Grandy twins seemed to have been destined to hit the ring, following in the footsteps of their father Danny, who boxed in Philly's amateur circuit during the mid to late 90's. Having trained in well-known gyms across Philadelphia during his career, Danny made sure that his boys had a front row seat to all of the action, even when they were still in car seats.
"I'm just trying to keep them away from the negativity that goes on in these Philly streets," comments Grandy in a recent interview. "Growing up without a father, I didn't have this push. Hopefully they stick with it."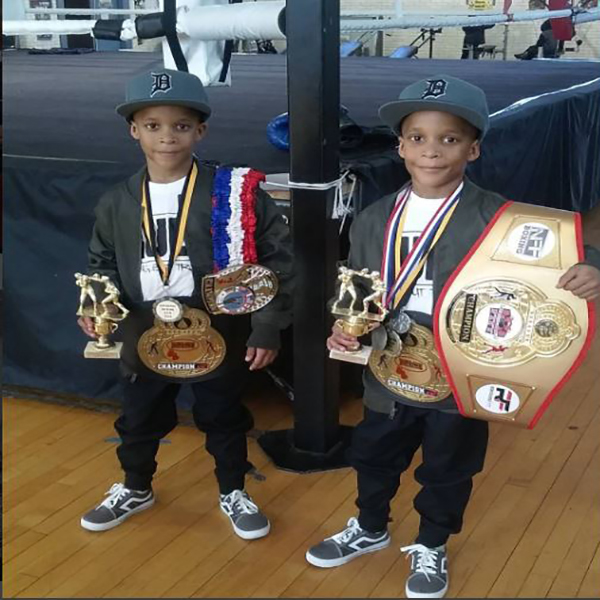 And sticking with it seems like something these two will definitely do as they have more than 43K Instagram followers cheering them on, in addition to the twin competitive nature pushing them to push each other towards success. "Work-wise, being identical twins, they push each other so much that they work harder than everybody in the gym" Grandy comments. "It's that twin competition. They bring joy to other kids training. They make all the other kids around them better."
Check out the boys' debut on Little Big Shots below as they give Steve Harvey a run for his money. To follow their journey on Instagram, click here. We cannot wait to see what the future has in store for these two amazingly talented athletes!