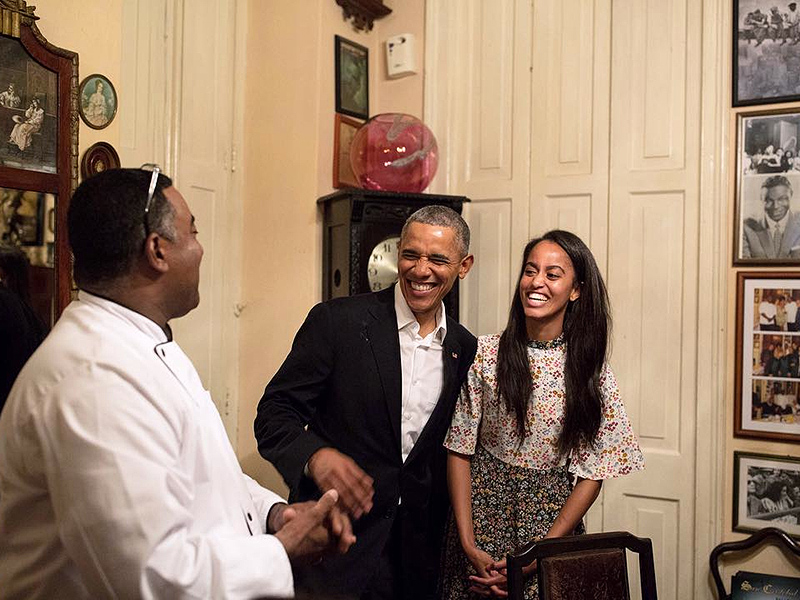 The president has a translator in his daughter. Mr. Obama has been utilizing Malia's Spanish-speaking skills when interacting with citizens of Cuba on the family's historic trip.
The father and daughter were photographed while sharing a few laughs with natives of the country who spoke Spanish only on Monday. According to Pete Souza, Chief Official White House photographer, Malia served as the line of communication as the president relied on his daughter's ability to understand, interpret and translate the conversation from Spanish to English and vice versa. "The President and Malia share a laugh as Malia translates Spanish to English for her dad at a restaurant in Old Havana," Souza shared along with a picture of the president and his daughter.
Sunday was a day for the books as the first family touched down in Cuba. It was the first time that a sitting United States president set foot on Cuban soil in nearly 90 years and certainly a monumental time for all members of the Obama family. The president vowed to show his daughters places in the world that they had never before seen when he began his first term nearly eight years ago. He has certainly fulfilled his promise with this latest trip to Cuba and a number of other world visits.
Sasha and Malia will soon finish their sophomore and senior years in high school. Malia will head off to college in the fall.