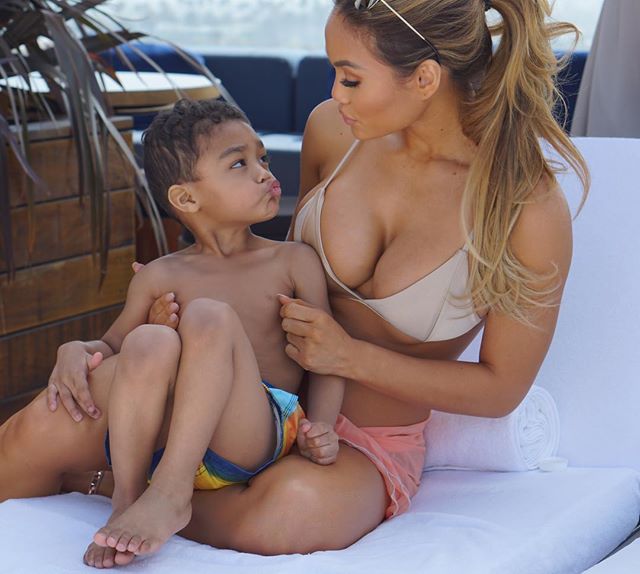 It was a pool party of two earlier this week as Daphne Joy and her son, Sire, enjoyed time out in the sun. The model and her little one shared pictures from the fun day with Instagram fans.
One photo captured Daphne and Sire sharing a kiss. The mother and son puckered up just before placing wet ones on one other's lips. Another candid showed Daphne and Sire taking in the sights. "When Sire sees a cute girl but Mommy has to approve," the caption read.
Daphne does a great job of co-parenting her son with rapper 50 Cent. The two share custody of the toddler and work together in ensuring that Sire is a happy kid.
Daphne has certainly been helping her son along in the fashion industry. "He's got a [modeling] deal now with an audio company," Fiddy told the press last year. "They paid him a big payment too," he added, "$700K. He's super cute."
Sire has participated in several photo shoots, and even made a showing during New York Fashion Week, since beginning his trails as a model at the tender age of two. He will celebrate his fourth birthday this summer.
https://www.instagram.com/p/BDEWsLJI8-O/?taken-by=daphnejoy&hl=en
https://www.instagram.com/p/BC4L7A7v6Dd/?taken-by=sire_jackson&hl=en
https://www.instagram.com/p/BCeGCw7P6Cv/?taken-by=sire_jackson&hl=en