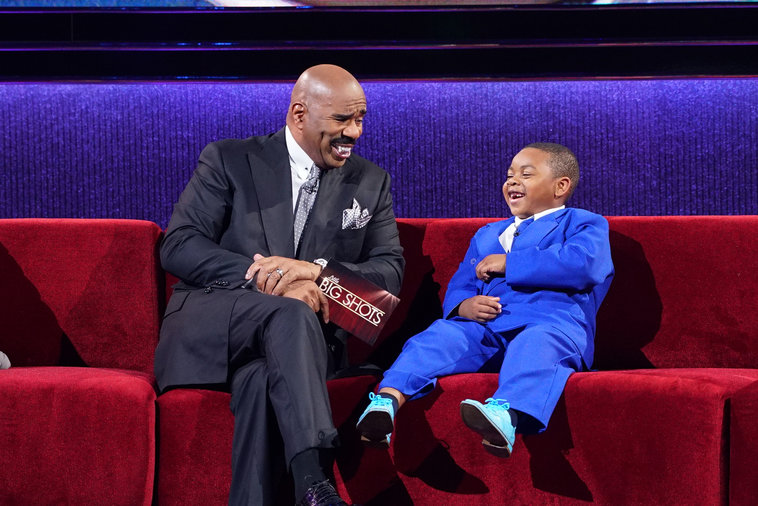 Set your DVRs and get ready to see some of the greatest talent on television. NBC's Little Big Shots premieres this Sunday (March 13) and promises to be nothing short of a show stopper.
Steve Harvey will host the series that features a number of talented kids. The guests come from all walks of life and have various abilities that are note worthy. "It's not a competition," says Ellen DeGeneres who works alongside Steve on the show. "It's just an entertaining show with adorable little precocious children."
Harvey also comments on the kids' talent and personalities. "These kids have provided some really, really magical moments," he shares. "There's some kids out here that [do] some amazing stuff."
Serving as host of the show makes Steve reflect on his relationship with his own children. "I've got seven kids," he explains. "So I've been talking to people of all ages for a long time. And just dealing with talent, from having hosted 'Showtime at the Apollo' all those years and 'Steve Harvey's Big Time Challenge,' this is really rewarding for me. You're going to hear kids say some of the craziest stuff, but they're purely being kids, and that's the beauty of it. My job is to just relax them, so I can get the best out of them."
Watch Steve and the kids interact on the series premiere of Little Big Shots this Sunday at 8/7c on NBC. See a snippet of the show below!
https://youtu.be/EN58SQwx8rA
https://www.youtube.com/watch?v=of5ZE0J6KWw