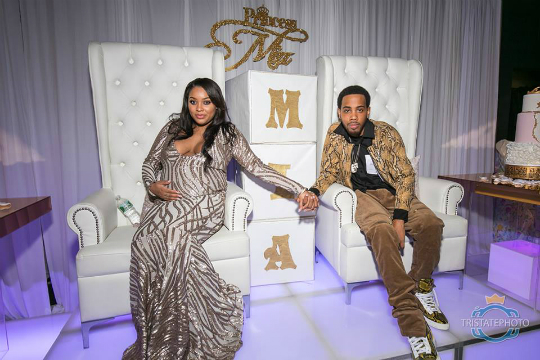 The Simmons sure know how to celebrate. Several members of the family came together this past weekend to celebrate the impending arrival of JoJo Simmons and girlfriend Tanice's baby girl, and royalty seemed to be the theme of the party.
Two cakes sat on what appeared to be the throne of the event. White chairs with customized pillows were placed next to the tiered pastries and the words, "Princess Mia" were written in gold above the scenery. Tanice and JoJo took several pictures with family and friends while seated on their throne and cut the premiere cake, which was shaped like a chair, together.
The couple announced their expectancy last year on Jo Jo's birthday. "Happy 26th Birthday Babe @jojo_simmons," Tanice shared on Instagram. "So thankful to share another year together! Your such an amazing person in my life and i cant wait til our Baby Girl gets the chance to see what such a great Dad your going to be! Love you #MommyToBe #DaddyToBe #babygirl #Family #Thankful."
JoJo also wrote, "All smiles today on my birthday. Me and @tanice___amira are expecting a baby girl in February. Can't wait to meet my daughter."
This will be Tanice and JoJo's first child together. See more pictures from Princess Mia's baby shower below!
Photos: Tri State Photo