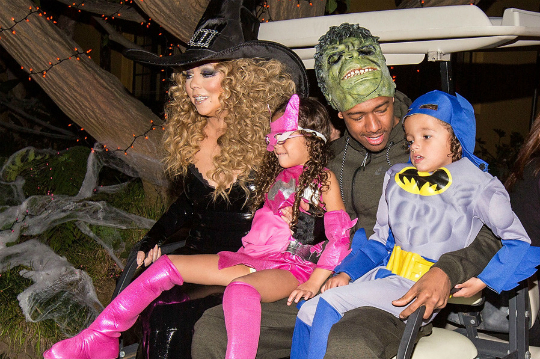 It was a night of superheroes and creepy characters for the Cannon clan on Saturday. Nick and Mariah reunited to celebrate Halloween with their son, Moroccan, and daughter, Monroe.
Monroe wore a pink Batgirl costume while Moroccan rocked a traditional Batman suit with accompanying muscles. Mariah was dressed as a witch for the evening, while her estranged husband wore casual wear with a scary mask.
Although Nick and Mariah are in the process of divorcing, the two have nothing but positive remarks for one another. "I'm a hopeless romantic," said Nick during one interview. "Through this learning process, you never say never," added the star, "To me one thing I know, that will always be the love of my life, always be my family and that's never going to change."
Nick and Mariah welcomed their twins in 2011. Monroe and Moroccan will celebrate their fifth birthdays next Spring. See more pictures of the kids and their parents below!