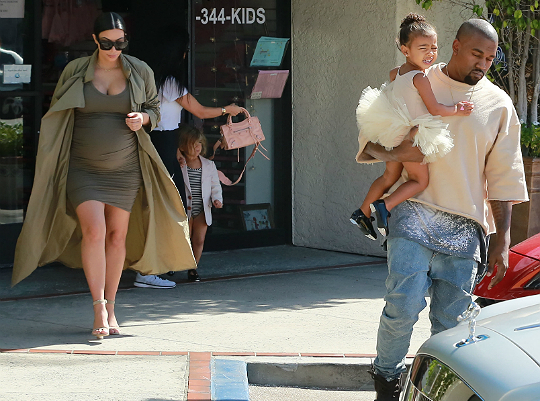 Rearing kids in the public eye is no easy feat for Kanye West. The rapper tells SHOWstudio's 'In Camera' that he is always thinking about the spotlight and the effects that it will have on his kids in coming years.
"Do I worry about being in the public eye and raising kids? Yeah," says Kanye. "Any situation you're in you're going to worry about raising kids but it's champagne problems," adds the star. "There's people who can't feed their kids. That's something to more to worry about. So I'm not going to sit here and complain about the so-called problems I have. These aren't real issues. There's people at war…That celeb s–t, it's not real s–t… You know what, I'm alive. I'm breathing… I have no problems."
West goes on to dote on his wife and daughter, who have completely changed his perspective. "Three years ago, after this interview, I would've been on the train back to Paris to see the last of the shows to get that inspiration," says the rapper of his newfound creativity. "Now, I'm on the first flight home to see my greatest inspiration, that's my daughter."
Kanye further explains, "Having a family, period, has made me completely rethink the way I rap. You know, people extend their brand for a long time. There's true moments of genius, then there are moments of looking through the archives and placing s–t together. So many people rate Dark Fantasy as my best album, but Yeezus and 808s are so much stronger. Dark Fantasy is me almost like, an apology record. 'Power' was the least progressive song that I've ever had as a first single…. least challenging." West adds, "I just love my family."
Kim and Kanye West have a daughter named North who celebrated her second birthday in June. The couple are expecting a son to arrive this winter.
Below are more photos of Kim Kardashian and Kanye and their daughter North heading to a ballet class on October, 2015 in Woodland Hills, California.
Photos: Fameflynet